Words by Anita Ekpo
Fashion trends have a tendency to remain in a loop with seemingly forgotten trends ever ready to make a comeback. Which is just as well since we live in a world of recycled knowledge and exploration. Each season, the runway becomes home to a wide range of styles inspired by different eras of popular fashion. However, this poses somewhat of an issue for fashion lovers who would ideally like to incorporate such styles into their everyday looks, but don't have access to the entire range of the showcased collection.
The few that do make it to mainstream retail, end up in the claws of knockoff manufacturers who quickly turn the style into a popular trend. Here is a list of top trends from this season to add to your shopping list.
Animal Prints:
The print style has somehow kept finding its way into popular trends just about every fashion season. Animal prints vary from bold leopard prints to wild snake prints, even zebra prints are getting increasingly popular. Celebrities and bloggers have been spotted at various events, styled in these bold prints with striking colors. Take Rihanna, she showed up at her Fenty event in Sydney, Australia, adorned head to toe in a snake skin print outfit topped with matching shoes and a Versace bucket hat!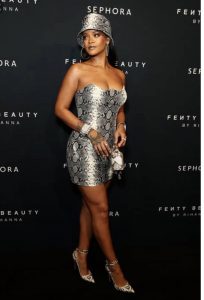 Print garments come in varieties including coats, pants, dresses and more. You can decide to pair your outfit with a snake print bag or shoes if you're feeling adventurous. Even Nigerian brands have been able to embody this trend despite the fact the weather is different. We've been able to see this in SS19 collection on the Heineken Lagos Fashion Week by Tokyo James.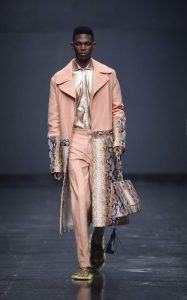 Dad Sneakers:
Dad sneakers have been on top of the game since 2018. Not only does every major brand have theirs, but they've also been able to interpret and produce these shoes in ways that fits their brand aesthetics. The outcome serves up a very nostalgic feel of the late 90s. The shoes have garnered universal acclaim in terms of comfort and gives off a chunky silhouette which can be a little intimidating but effortlessly cool. Even though some of them look hideous, you would be surprised how many outfits from your closet can be paired with it as they break the barrier between ugly and fashionable. The chunky sole also adds an inch or two to your height (and frankly nobody would mind being a little taller). Various brands have been able to find uniqueness in themselves, from high end brands like Balenciaga with its Triple S Trainers to the Fila Disruptor II.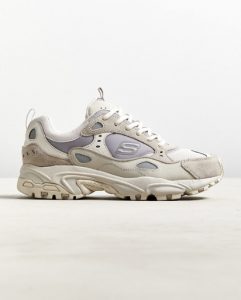 Neon colors:
You have seen them on celebrities like Beyoncé and Blake Lively. Yes we're talking about the neon trend. A couple decades ago, pairing a neon cycling short with your fit may have you come off as a Richard Simmons-eque fitness class instructor ready to "party off the pounds". But now it's completely fashion forward. Neon colors are back! The comeback started in 2018 with blinding colors highlighting the runway all through that season and it has continued to remain.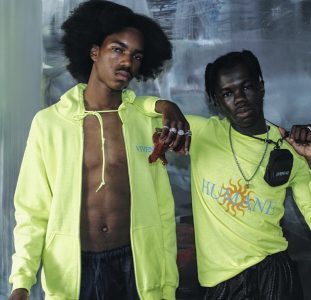 This trend is not limited to a particular country or group of people. Modus Vivendii has designed hoodies that look chic for the Lagos crowd, with slime green 'The Game' lettering, as well as other sweatshirts and crop tops. They make the perfect combination to your casual outfit and would have people around questioning what the game is. The game here is fashion and being able to merge it with lifestyle is the ultimate goal. The fluorescent colors have made its way from the runway to retail really quickly. These blinding colors can be seen from across the room because you just can't miss it. Who doesn't love being the spotlight? It's the perfect and stylish to stand out from a crowd
Vinyl:
Plastic fashion sure isn't new to the fashion world, it really highlights the fantasy during the Space Age. Designers like Christopher Kane sent models out to the runway in unique plastic pieces with lace prints. It's definitely a personal spin on the entire trend as opposed to the Matrix aesthetic delivered by Marni and John Galliano in the fall of 2018. Fashion elites have embraced this style while serving high sex appeal and dominatrix vibe. Mowalola Ogunlesi, Nigerian born designer has been able to fuse this trend and fetishism into her AW19 collection. The collection is simply powerful and has taken a path no other designer has followed.
This trend is considered daring and considered unwearable but they are quite the catch. The high-shine fabric is very hipster and you might want to ease yourself into the trend by adding a few accessories, a pair of patent leather boots or bag for a start.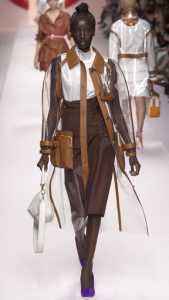 Featured Image Credits: Mowalola AW19
---
You are meeting Debola at a strange time in his life. He wandered into a dream and lost his way back. Tweet at him @debola_abimbolu
---