We first heard about the New Haervest Festival (NHF) in 2017 when the brand hosted its first pop-up festival, opening the doors of Wèré House to anyone and everyone who wanted to experience something outside the norm.
The inclusive community managed to garner non-mainstream artists in and around Lagos and promising party favours from free alcohol to vintage shopping and as a result, the brand marked itself as one championing the youth culture in Nigeria. They went on to host a series of events in Lagos and London following its successful birth in 2017, and has reached built a thriving community based on inclusivity, equality and diversity.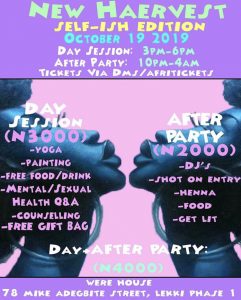 Now the doors of Wèré House will be open once more for NHF's 4th edition held in Lagos on October 19th. The brand is ready to take things up an amp, as in line with this year's theme 'self-ish: promoting mental and sexual self-care' it has opted for a day-long event packed with workshops, yoga classes, interactive sessions on mental and sexual care as well as an after party to close the day. It promises to be a fun day of wholesome conversations, open dialogue and of course, partying!
Here are some highlights from last year's event in Lagos.
Featured image credits/newhaervest
---
Tami is a lover of astrology, music and women. Tweet your fave female artistes at her @tamimak_
---