Following the death of George Floyd in late May this year, the black community rallied together to protest the persisting racism which remains terrifyingly prevalent in American (and frankly, global) society today. Whilst some took to the streets with signs and chants, others fought the anti-racism battle by setting up and contributing to funds to help the families of victims of police brutality or arrested protesters, and petitions for justice.
One way of ensuring these petitions, funds and the general outcry and collective demand for reform garners the attention needed is for everyone to use their platform to amplify these causes – both individuals and companies and brands. This is what Jackie Aina continues to do with her platform, and what she demanded, back in May, of Fashion Nova, Pretty Little Thing and Revolve –notoriously ethically corrupt fast-fashion brands "who love capitalising on black culture, black music, black aesthetic but are dead silent when it comes to talking about black issues and black struggles in our community" Aina said in her Instagram story calling them out for their inaction.
Jackie Aina is an excellent example of an influencer who is using their voice beyond the particular industry in which they work to enact change in society. Not only has she been instrumental in reshaping the beauty industry to be more inclusive of black women, but she consistently uses her social currency in order to amplify the voices of black people, and that is what her latest project, 'Social Beauty' – which she will executively produce – is all about.
Co- produced by actress, Andrea Lewis ('Degrassi: The Next Generation')  and Under FaceFoward Productions' Takara Joseph and CJ Faison ('Giants') 'Social Beauty' is directed by independent filmmaker, Kwanza Nicole Gooden. Jackie Aina will not only executive produce this feature-length doc, but will also star in the film, joined by Nyma Tang, Alissa Ashey, Nyma Cydnee Black, Whitney White and  Shalom Blac. With contributions from other brands, beauty journalists and more, 'Social Beauty' will highlight how these popular and powerful influencers came into the beauty industry and shook things up with their raging success.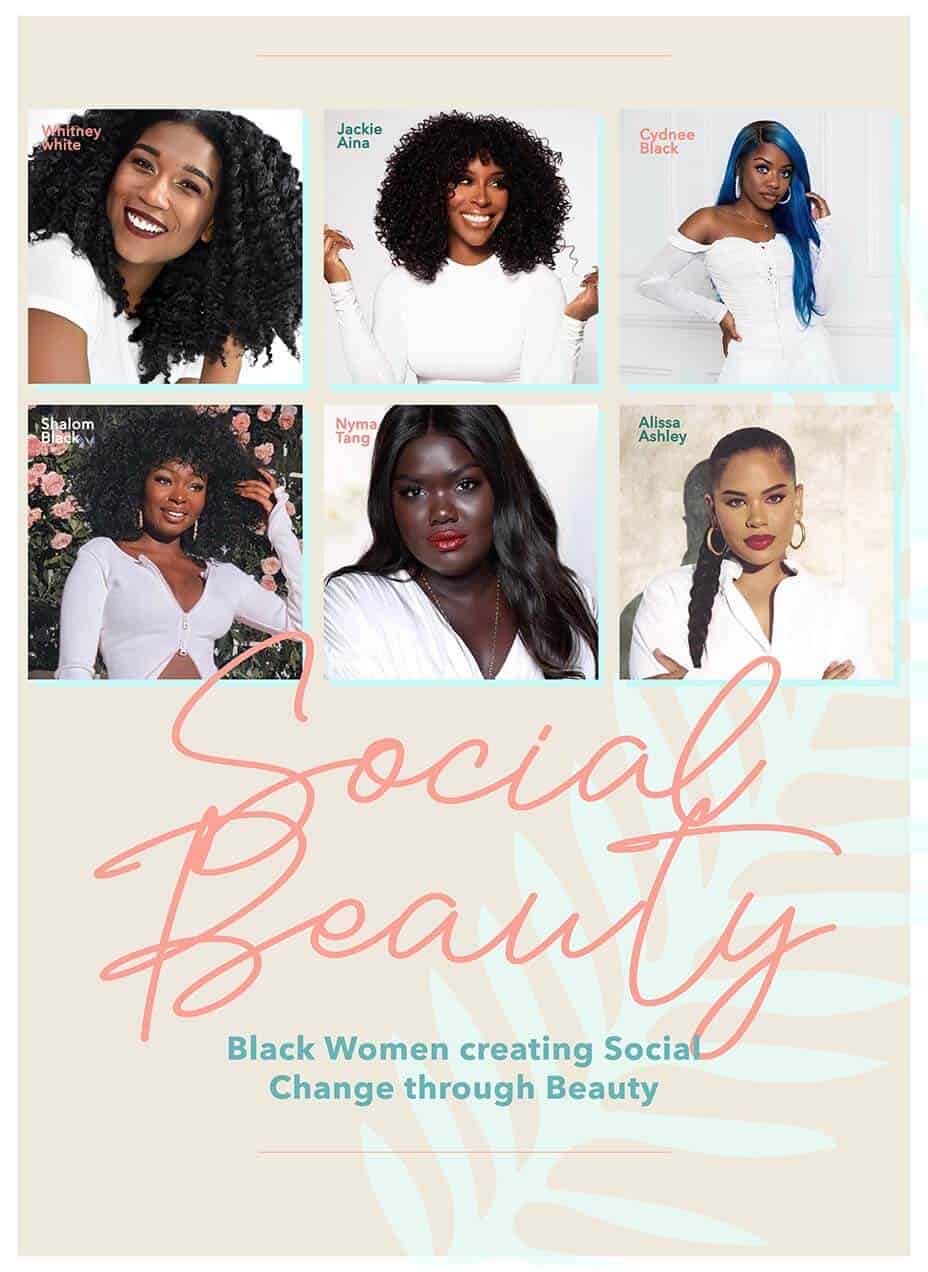 In 2017, Rihanna gave the beauty industry a stern warning to act right, when she launched her 40-shades of Fenty Beauty ProFilt'r Foundation, accompanied by a diverse and inclusive range of contour, highlight and concealer MatchStix. Scrambling to keep up with this new industry standard, brands such as Dior and CoverGirl matched Fenty's forty, and the global beauty industry has since seen increasing diversity – even though we are far from beauty being fair and equal for black people.
Dubbed the Fenty Effect, this shift in the beauty industry is very well-documented, however, the work that black beauty influencers have done has been less so. The likes of Jackie Aina, Alissa Ashley, Patricia Bright and even renowned make-up artist turned beauty mogul, Pat McGrath have been key in diversifying the beauty industry, despite the rampant racism they face. Before these influencers and popular MUAs, the struggle to find makeup products was universal for black people, and seeking reviews to point us in the right direction involved deep investigations.
For Andrea Lewis, who created this documentary, the lack of black representation in the beauty industry affected her professionally, as she was forced to fend for herself (or risk looking ashy). She says:
 "I grew up on TV and film sets learning how to do my own hair and makeup because there weren't available beauty products that worked for me. These Black beauty influencers have led the charge in pointing out the lack of diversity in the beauty industry and inspiring more inclusion for women of colour."
Rectifying the white-dominated space and ensuring that black women are represented beyond just our disproportionate spending habits (because we spend so much more trying to find the right products), we're very excited to see the work and success of black beauty influencers documented and celebrated on the big screen.
"I'm so excited to be a part of something that shows our impact as black women in beauty" says Jackie Aina to The Hollywood Reporter.
"I hope through this project people will see that so many of us are passionate, multifaceted, and more than what you see outwardly. It is an honour being a part of a community that encourages so many of us to believe in ourselves and to look and feel beautiful even when often times the media encourages otherwise."
Image Credits/The Hollywood Reporter
---
Wojumi is a bad bitch & she's going to brag about it. Tweet her your latest cultural exploits @dewoju
---