Ideally, the loss or absence of one or more of our sense organs shouldn't imply that life can no longer be experienced in full. It only means there's a peculiar set of challenges effected by an omnipresent flaw. Since a significant portion of people on the planet have all five senses intact, the challenges of individuals with dysfunctional sense organs are obscure enough to not concern most people. That is until they to have to deal with the reality of those challenges by themselves.
Case in point, Habeeb Bombata, a Computer Science undergraduate of Bells University of Technology, Ota, Ogun state. He recently premiered the first prototype of a money recognition software for visually impaired people, on social media. Explaining the idea behind the striking project, Habeeb explained to the NATIVE that volunteering on "Be My Eyes", an application focused on assisting the visually impaired, provided him with inspiration. As its name implies, "Be My Eyes" is a help-based platform that pairs visually impaired individuals with sighted individuals who assist them with activities that require visual input.
In volunteering on the 'Be My Eyes' app, Habeeb was able to understand the semantics of dependency for visually impaired individuals: While activities like doing chores (laundry and dishwashing), and picking out an outfit or a piece of furniture are elaborate enough to require visual assistance, the realization that less intense tasks can be carried out independently led to Habeeb's current idea, which he tentatively calls "Currensee", and his ongoing quest for total fruition.
Excited to share the first prototype of my final year project 🎉.. An app to help visually impaired people recognize money 🚀🚀🚀🚀

Yes it comes in android too. pic.twitter.com/h1q8BrQLpu

— Habeeb Bombata (@nottherealilest) June 17, 2019
To be clear, Habeeb's idea isn't exactly new, but it has undeniable ramifications. A look around the internet highlights a similar minded, trailblazing app, "LookTel Money Reader", an application (unknown to Habeeb prior to our conversation) that helps visually impaired individuals recognize the denomination of money in 21 various currencies. Currently, LookTel Money reader doesn't support the Naira, or any other African currency for that matter, which is where Habeeb's innovation will hopefully come in, in the near future.
"I've been working on the idea (his "Currensee" app) since last November, like when I got my project topic, 'cos I chose it for myself", Habeeb says, adding that the combination of his tenacity and his project supervisor's eventual willingness, is to credit for the beginning stages of execution. Going by the video posted on social media, the current prototype can identify the denominations of the Naira in polymer notes (5, 10, 20 and 50naira), which basically covers the scope of his undergraduate project. Knowing the potential, real-life use for his project, though, Habeeb is looking at pushing the application to encompass the recognition of every Naira denomination.
For an idea he's been working on for just eight months, Habeeb has come far—thanks in large part to a library of already written algorithm relevant to his app—but he also acknowledges he still has a long way to go in order to make "Currensee" a wholesome, perfectly working app.
Delving into one of the significant hurdles he's faced with development so far, and will continue to face, he explains that, with "Currensee" being an imagery based AI application using unsupervised machine learning, he needs a large number of samples for each denomination, in varying physical states, in order to train the app to recognise any type of Naira note ranging from crisp to shabby. Currently, the app has been trained with over two hundred variations of the polymer Naira notes, but he projects that he needs about two thousands variations of each denomination, in order to full optimize the app's abilities. The good thing is, Habeeb realizes he needs external assistance to help in widening the scope of his app, and he's open to receiving a variety of images of each denomination.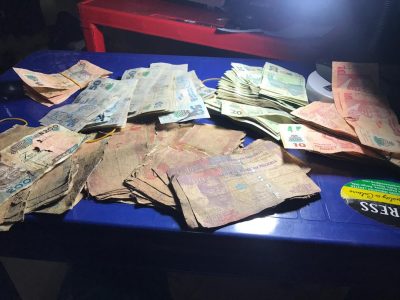 There's a palpable vigour with which Habeeb discusses "Currensee", pushing the notion that he's in it for the long haul, but he still has to contend with paying his bills while working on the project. Currently, he's working a 9-5, greatly reducing the time he can work on "Currensee", affecting the speed of his work. Considering its low-profit potential, making the decision to work on the app full time is an unwise risk, and it also limits any seed money towards the manifestation of the app as goodwill donations rather than investments.
Regardless, there's been a substantial, positive encouragement since his video went viral: a member of the 'Be My Eyes' team reached out to offer technical assistance. As much as that counts for something, Habeeb is hoping his prototype attracts enough people who willing to assist, in every aspect possible.
The fact that "Currensee" is solving what many might term a solution to a fringe problem is not lost on Habeeb. It is an especially striking observation considering Nigeria's status as a developing country, compounded by its benign neglect of those who require medical assistance for illnesses that aren't widespread. Habeeb's hope, though, is that increased awareness on the plight of visually impaired individuals in Nigeria, and empathy towards them will help in making his undergraduate project, a viable option for real life use.
You can reach Habeeb Bombata via Twitter and LinkedIn.

---