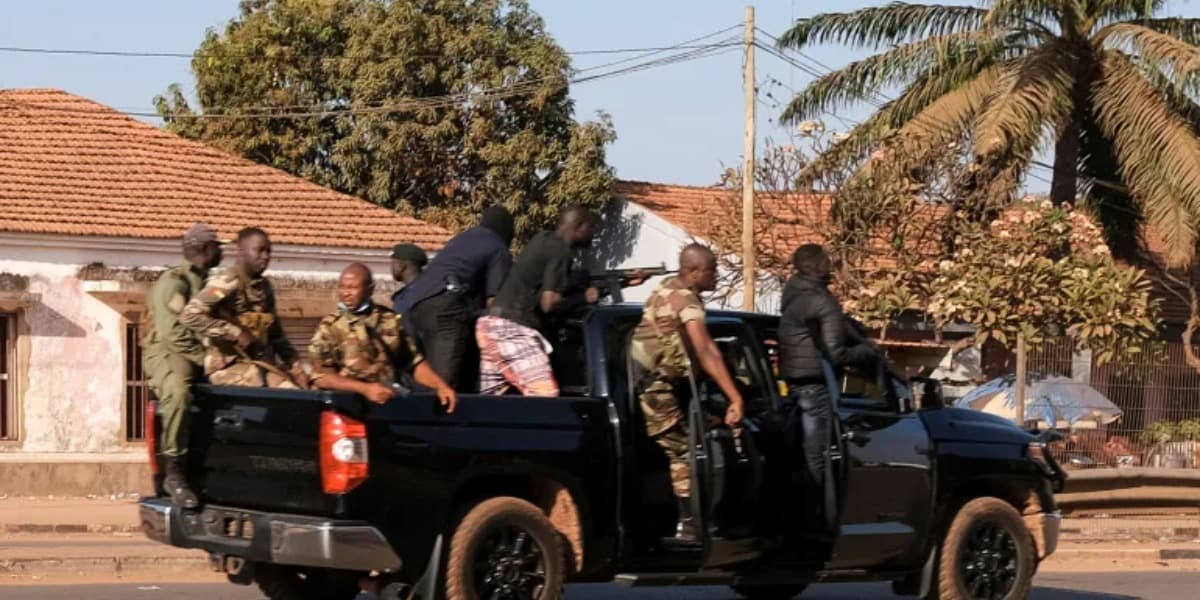 What's Going On: Coup in Guinea-Bissau, Tropical Cyclone Ana in Southern Africa & More
notable headlines from across the continent
"What's Going On" Tallies Notable News Headlines From Across The Continent — The Good, The Bad, And The Horrible — As A Way Of Ensuring That We All Become A More Sagacious African Generation. With This Column, We're Hoping To Disseminate The Latest Happenings In Our Socio-Political Climate From Across The Continent, Whilst Starting A Conversation About What's Important For Us To All Discuss. From Political Affairs To Socio-Economic Issues, 'What's Going On' Will Discuss Just That.
---
Ever so often, we have to remind developed parts of the world that Africa is not a country. It's not just because a significant portion of people in those parts are unenlightened, but also because of the continent-wide similarities when it comes to social, political, and economic issues. For one, Africa is teeming with corrupt and inept leaders—many of them dictators— who have failed to invest in meaningful infrastructure, all while derailing and rejecting systemic change through violent means if necessary. In addition to this, they are fully aided by deeply patriarchal, religion deferring, and ultra-conservative social constructs.
At the same time across the continent, the current generation of African youth are pushing against these systemic boundaries, in order to continue the arduous work of rewriting the narrative. Even with all of the endeavours, talent and records being witnessed from music to tech, the limitations put in place by the continent's political landscape still looms large. Every week, disparaging headlines from around Africa make their way to the news, reminding us of the bumps affecting these perceived stripes, and the roadblocks which delay our growth towards more wholesome and enabling societies for all Africans. Below are few news bits of what's been going in on in the past few days.
Attempted coup in Guinea-Bissau
Last Tuesday, it was reported by Guinea-Bissau's incumbent president Umaro Sissoco Embaló that an attempted coup was staged in the government palace. The attack is said to have taken place for several hours, during which assailants attempted to overthrow security forces with machine guns and AK-47s. The news of the attack was shared by the country's president via a national broadcast on Radio TV Bantaba who said, "I have never imagined that we would arrive to this type of situation," Embaló said. "I never thought that Bissau-Guineans could practice another act of violence."
Crossfire is said to have lasted for five hours with Embaló also adding that "many" members of security forces were killed in the failed attempt, however he did not confirm the number of casualties. Embaló also said that he believes the perpetrators of the coup intended to kill him and members of his cabinet, who were gathered for a weekly meeting in the palace. It is not clear who was behind the planned attack but the president mentioned that, it "also has to do with our fight against narco-trafficking". Guinea-Bissau became known as a transit point for cocaine between Latin America and Europe in the 2000s as traffickers profited from corruption and weak law enforcement.
The coup attempt in Guinea-Bissau comes after months of similar devastations across the African continent. In recent memory, in West Africa, there has been one in Mali in 2020 and again in August last year, another coup in Guinea in September, and in Burkina Faso just last week. Coups have also taken place to the East of the continent, in both Chad and Sudan.
ECOWAS to deploy troops to Guinea-Bissau to help stabilise the country for the second time in a decade following a failed coup early this week. pic.twitter.com/L7g2SkPbgg

— Defense News Nigeria (@DefenseNigeria) February 5, 2022
Fire rages across Kenya national park
On Sunday, forest rangers and volunteers battled flames and strong winds to stop a fierce fire raging across Kenya's Abedare national park which broke out for nearly 24 hours. According to Kenya Wildlife Service (KWS), the government body in charge of national parks, the fire broke out on Saturday night in the park. Located in the Aberdare mountain range, the park is home to spectacular waterfalls and lush bamboo jungles as well as a variety of wildlife including leopards, elephants and critically endangered black rhinos.
A number of other local bodies have teamed up to aid efforts to cure the fire. Rhino Ark, a conservation charity in Kenya, said on Twitter that it had deployed helicopters to conduct aerial surveys of the area to estimate the extent of damage to the forest cover. The Mount Kenya Trust, a body set up to conserve the country's forests, said Sunday that a team had "headed up to help with the bushfires in the Aberdare.
Huge fire breaks out at Aberdare National Parkhttps://t.co/jCRBmB7UIG pic.twitter.com/0q08eJxSb5

— NTV Kenya (@ntvkenya) February 6, 2022
Tropical Cyclone Ana tears across Southern Africa
Earlier this week, Tropical Cyclone Ana tore across Southern Africa leaving more than 80 people dead and thousands displaced and impacted in their homes. Although it is not yet known where these deaths are situated, the European Civil Protection and Humanitarian Aid Operations (ECHO) shared in its latest update that Madagascar, where prolonged drought has pushed people to the brink of famine — had been worst-hit, with at least 41 deaths and more than 110,000 people affected.
In Mozambique, at least 15 people were killed and more than 45,000 have been affected, while Malawi has reported at least 11 deaths, with nearly 217,000 people impacted, according to ECHO. It said that heavy rainfall had caused rivers to overflow, and that floods and landslides resulted in casualties and widespread damage. Although CNN reports that the storms have weakened, the South African Weather Service said that Malawi and Zambia could experience more heavy showers over the weekend. As we continue to witness the effects of climate change, it is said that climate the whole continent is projected to experience a greater frequency of heavy rain, according to the Intergovernmental Panel for Climate Change's latest report. Southern Africa is particularly vulnerable to drought in a warmer climate.
Intense Tropical Cyclone #Batsirai crashed into the east coast of #Madagascar on Saturday evening, local time, unleashing destructive winds and flooding downpours to a country still reeling from the effects of Ana in late January: https://t.co/7xFwN4qhYM pic.twitter.com/58zgGDWpJL

— Breaking Weather by AccuWeather (@breakingweather) February 6, 2022
Featured image credits/