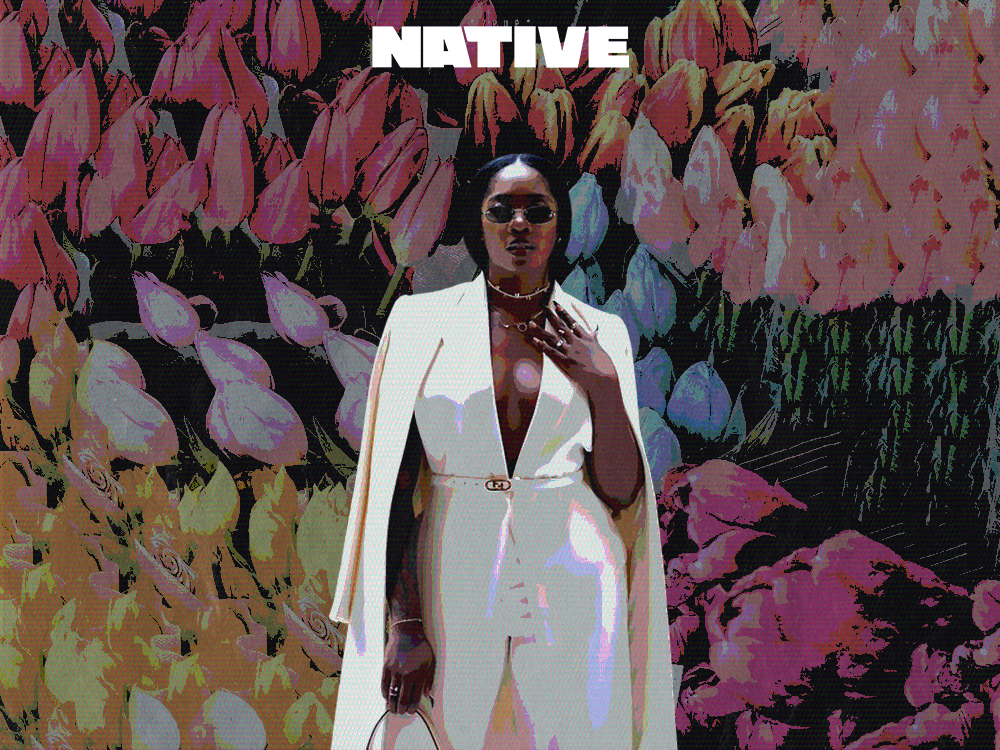 It's About Time We Give Tiwa Savage Her Flowers
"No.1 the African Bad Girl"
Tiwa Savage has proven with each new effort that she is a force. In a number of ways and for a lot of years, the scales continue to be tipped. When forces go against the grain to even out the playing field or dare to restructure a system to accommodate more women, they are met with resistance. Zooming in on any industry or space occupied by women and men, someway or another the power lies within the latter. In today's world where everyone is given 60 seconds to make a lasting impression before all eyes are on the next thing, one can only imagine how difficult it is to stand out in the crowd. In recent times however, there cracks are beginning to show and women are finally getting the recognition they deserve.
Bringing it closer to home, everyday, the music industry in Nigeria achieves new groundbreaking records. The domineering genre that is Nigerian pop—colloquially referred to as Afrobeats—and all its proponents relentlessly break boundaries and attain new heights of star power, slinging the ropes of the expansive genre well beyond its borders. When Tems isn't winning a Grammy and having a mutual fangirl moment with Mary J. Blige on the red carpet, Ayra Starr is sitting at the top of several national charts with each new release. At such a crucial moment in our history, it is vital to recognise those who have remained staunch amidst the challenges and emerged victorious in a world set up to suppress them. An inspiration to many within and outside the industry, Tiwa Savage is one of such unique pillars, an icon in her own right.
View this post on Instagram
Rewind the clock to 2012, roughly three years after graduating from Berklee College of Music, an optimistic Tiwa Savage returned to Nigeria to further pursue music. Sitting at the top of the industry at the time were a plethora of hits still able to trigger feelings of warmth and nostalgia in any listener today—a limitless list that includes Olamide's high-octane "First of All," Burna's hypnotic "Like to Party," Davido's conceited "Dami Duro" and Flavour's "Ada Ada." Evidently a scene on the cusp of a bigger breakthrough, the industry at the time was undeniably male-dominated and standing out would require enormous persistence. Intimidated or not, sceptical or not, Tiwa Savage was about to make an impact that would be felt years down the line. That year, the scene got a glimpse of Savage's eminent superstar qualities when she signed to the then newly-minted Mavin Records and made memorable appearances on the label's compilation album 'Solar Plexus'.
It's not that Tiwa Savage was an unknown quantity. In 2011, she bolted into the Nigerian music mainstream with the pair of "Kele Kele Love" and "Love me, Love me, Love me," two snappy and instantly distinct electro-pop songs that established her as a vocal siren and diva with obvious charm and charisma. Birthed from a partnership fissure that led to the dissolution of the iconic Mo'Hits Records, the Don Jazzy-led Mavin imprint was looking to make a statement with 'Solar Plexus'. With the only obvious hit being D'Prince's sex-led "Take Banana," the label was still figuring out the roles for its all-star cast but there was Tiwa Savage, the least experienced in Nigerian pop amongst the roster, standing out on ensemble cuts ("I'm A MAVIN") and sole focus tracks ("O Ma Ga") alike.
A year after the Mavin compilation project, Tiwa Savage delivered an outstanding and generous debut LP with 'Once Upon A time', a 21-track that sprawled towards multiple sonic directions as a means of emphasising the singer's versatility. In addition to the diva appeal of her first two breakout singles, there was the Don Jazzy-assisted smash hit "Eminado," the glorious combination of romance and folk-pop on "Ife Wa Gbona," deeper cuts like the salacious "Written All Over Your Face" and her spiritual paean on "Olorun Mi." Darting across modish Nigerian pop sounds at the time, R&B influences, Gospel, Makossa and more, the project's musical and thematic diversity served as a statement of her multifaceted person, even though a lot of the media coverage was intent on flattening the singer through the lens of objectification. 
At a time when women had to work ten times harder to garner half the attention as their male counterparts, only to get half the accreditation, the challenges Tiwa Savage experienced are inexhaustible. Added to setbacks within the industry, the reception of an artist as herself in a society like ours contributed to hindering a come-up. But Tiwa Savage was relentless. When several expectations aren't set for women and decisions aren't made about their bodies on their behalf, women in the industry are only utilised as the punchline for lyrics and objects of attention for music videos. It goes without saying that standing out based on sheer merit would prove difficult. However, for any avid listener focused on the power of her otherworldly vocals and divine star qualities, Tiwa Savage was one track away from becoming one of the biggest pop stars the continent had seen. 
Reminiscing on some visuals from the archives, "Love Me 3x" and "Wanted" especially, blogs and articles littered the internet using words as 'explicit,' 'raunchy' or phrases like 'despite the fact that Tiwa Savage is married' to express their dissatisfaction with her appearance. Her radiant energy exuded through our screens as she transitioned from a reflective pink bodysuit to a zebra print one-piece and beautiful mini dresses with plunging necklines but for many Nigerians, that was 'too much.' Like operating in a male-centric industry was not tasking enough, she received criticism from all corners by people who have self-proclaimed access over women's bodies and affairs. Tiwa Savage—occupying a position as delicate as hers—remained unapologetically grounded in herself and though it wasn't apparent at the time, consequently rendered herself a reference point for artists like Ayra Starr. 
Just as she was experiencing a steady, promising rise, Tiwa Savage's career hung in the balance. In an emotionally-charged sit-down with Pulse Nigeria, Tiwa Savage accused her ex-husband/ex-talent manager, Tunji Balogun (TeeBillz) of stealing, infidelity, mismanaged funds and drug addiction. As expected, her music inevitably took the back seat to all the events in her life as she tried to maintain her reputation and protect her child, Jamil. Consequently, her late 2015 sophomore album, 'R.E.D', bore the brunt of this. Opening up with "Adura" (translating to "prayer" in Yoruba), 'R.E.D' was predominantly an ode to the unforeseen career strides she had experienced in her short time in the industry. Tiwa Savage found resilience in her faith, emphasising her feelings of gratitude and respect to God, while also flaunting a renewed sense of conviction in her artistry and purpose.
With other standout singles like Dr Sid-assisted "If I Start to Talk," she reiterates her appreciation for successes achieved thus far as she croons on the mesmerising hook, "If I start to count all the blessings/The blessings wey baba God give me we no go end." Still, 'R.E.D' was greatly affected by the rumour mill that churned out speculations about her divorce proceedings. In hindsight, that period was a soft reset for the singer, with the announcement of a management and publishing deal with Roc Nation in 2016, and the release of her first extended play in the summer of 2017 which served as a return to form.
'Sugarcane', a harmonious composition of groovy Afropop tracks and several R&B-laced cuts, provided a 6-song suite that comprises some of the best songs in Tiwa Savage's catalogue. The delightfully brief body of work holds several evergreen Tiwa Savage cuts, including the Spellz-produced, Wizkid-assisted "Ma lo," the buttery opener "Sugarcane" and commercial lodestar "All Over." While she's never been shy about laying out romantic desires in direct terms, there's a delectable smoothness to her approach on the EP, as exemplified on the project's best song, "Get It Now." For its remix, she enlisted American R&B heartthrob Omarion, whose contribution sounded effortless because of how much of a great song Tiwa Savage already made.
For her growing longevity and prominence as the foremost female superstar in Nigerian music through the 2010s, the biggest knock on Tiwa Savage was in how she seemingly caped for the patriarchal status quo. In a 2017 interview, just over a year after the media spectacle about her divorce, the singer discussed the difficulty of women breaking into the echelon of superstardom, deeming the extra hard work and conservative bullshit female artists have to deal with as a virtue. Going a step further, she dismissed gender equality. As an artist who's shown irreverence by wielding her sexuality and sense of self as weapons against the conservative grain she's had to deal with, her non-feminist ideals were disheartening but not entirely surprising.
Across the two studio albums and EP she released in the previous decade, Tiwa Savage featured a grand total of zero women. Some of it is a by-product of operating in a male-dominated space but, for what it's worth, she's always been a grade A collaborator, a walking highlight reel that consistently turns cameos into song-elevating displays. The list is endless: her stunning appearance on Patoranking's "Girlie O (Remix)," her show of poise on Ladipoe's "Are You Down," her sensual turn on Jidenna's "Spy Candy," showing off her falsetto alongside Wavy the Creator on "Body Deep (Remix)," playing the confident romantic foil to Lothario types like on Young Jonn's "Ello Baby" and Spinall's "Dis Love," and much, much more.
As a headline collaborator, Tiwa Savage is as imperial as she is generous. Think: Her forming a glorious duo with the then unknown Timi Wonder on "Ife Wa Gbona" or letting Wizkid's charisma shine even brighter next to her on multiple occasions without deeming her own star power or the couple times her collaborations with Don Jazzy felt like they were a match made in music heaven. Amidst his mainstream re-entry in 2018, Tiwa Savage scored arguably the best Duncan Mighty collaboration of the time with "Lova Lova," a high point in another period of recalibration that comprised one-off singles and several feature appearances from the singer.
In mid-2019, news of the singer signing a global recording with Universal Music was announced, effectively setting her up to scale her presence within Afropop's international push. There were expectations and the first glimpse of a renewed Tiwa Savage was on the Beyoncé-headlined compilation album, 'The Lion King: The Gift', duetting with Mr. Eazi on the groovy, soulful "KEYS TO THE KINGDOM." A few months later, in September, she would lay down an assertive gauntlet with the vibrant Fela-inspired single, "49-99," setting an expectant tone for a future release, which she teased out with several singles, including "Owo Mi Da" and "Attention," the latter of which was premiered through an earworm performance on A Colors Show. With a new album on the horizon, Tiwa Savage deservedly sat in the glory she created for herself, setting the project up as her most confident yet with the release of "Dangerous Love" and the delightful hypocrisy shunner "Koroba."
When 'Celia' dropped in 2020, the timing was spot on. Faced with a series of tribulations offset by a global pandemic, the world turned to music for its healing purposes and Tiwa Savage's project provided just that. On her third studio album—arguably her best body of work yet—the singer reaches for more depth and even briefly ponders her legacy. Named after her mother, the project explores the stories of an African woman through her own lens, with impeccable vocal performances and forthright lyricism enabling Tiwa Savage reaffirm her person and reintroduce a singer with a more wholesome awareness of the immediate environment she's operating in.
The mid-tempo, love themed track with Sam Smith, "Temptation," and the subtle socio-political commentary on Naira Marley-assisted "Ole," to name a few, illustrate the variety of sounds and themes the project explores. However, sitting well within the album's theme and arguably one of the best songs in that year is "Koroba." Over the course of her journey in the industry, Tiwa has been forced to get accustomed to public scrutiny and on this track, she turns her attention to the Nigerian audience, whose criticism she is all too familiar with. As the London-produced "Koroba" addressed the hypocrisy towards women who date for monetary benefits, she calls out our society that shames these women but lets the men who steal to make these provisions, off the hook.
'Celia', one of the best albums in a packed year for great projects, could have perhaps used a lot more attention beyond the chatter on social media that reduced its reception to a lack of hype. It's telling of our society where a woman, a superstar for that matter, puts out a body of work and it becomes the lightning rod for conversations about music marketing and PR, rather than the merits of its content. If Tiwa Savage felt slighted by all of this, she didn't publicly show it, carrying on with the album's promo run till the early days of 2021.
In August, a year out from 'Celia', she returned with her second extended play, 'Water & Garri'. Stacked with highly anticipated features from Ghanian superstar Amaarae and R&B icon Brandy, the 5-tracker presented a seamless blend of different sounds, intricately woven together by Tiwa Savage's sheer artistry. "Somebody's Son" with Brandy warmed its way into mainstream ubiquity for its relatable theme, while the Amaarae-assisted "Tales by Moonlight" is a shimmery track accompanied by subtle sax elements, equally artistic visuals and almost makes up for the years of non-existent appearance of women on the singer's projects. 'Water & Garri'—also assisted by NAS, Rich King and Tay Iwar—is proof of Tiwa Savage's unending efforts to surpass all expectations and outdo herself with every new release.
While she's teased a sequel to the EP, her quest for excellence is taking on ambitious forms of expression. Currently in post-production, Tiwa Savage will star in a film named after 'Water & Garri'. Expanding the world of her creative outputs even further, the film's release would mark her directorial debut as she takes on the role of a remarkable fashion designer based in America, seeking to return to her country and face the guilt left behind. She will also be joined by some Nollywood regulars, Mike Afolarin and Jemima Osunde. While this is her first lead role, true stans are familiar with Tiwa Savage on the big screen. From playing Shade Banjo on MTV's 'Shuga Naija' in 2013 to her theatre efforts for the Broadway Nigerian remake of Tyler Perry's 'For Colored Girls', Tiwa Savage is not new to the scene.
View this post on Instagram
From a keen consumer perspective, the last decade of Tiwa Savage has been a pure joy to witness. An unquestionable serial hitmaker and Doctor of Music—as awarded by University of Kent in 2022—Tiwa Savage has achieved several career strides and continues to serve as a pillar of the music industry in these parts for many reasons. When she isn't collaborating with some of Africa's best like Dj Maphorisa and Major League DJ's on "Koo Koo Fun" or Asake on intoxicating tracks like "Loading," she's reinforcing music's healing powers with every body of work she puts out. Amidst the chaos that is life, Tiwa Savage remained genuine and consistent as she told hers and our stories, simultaneously polishing her craft, sound, brand and image.
Also an inspiration for many outside the music industry, Tiwa Savage serves as an interminable figure with admirable buoyancy for many women, simply by being unapologetically herself and reclaiming ownership from people trying to make decisions on her behalf. In the thick of challenges she faced as a woman in an increasingly male prevalent space, Tiwa Savage has remained a consistent and persistent face, providing comfort to many with her instantly recognisable, sweet-sounding vocals. It's about time we give credit where it is due. 
Featured Image Credits/The NATIVE
---
Nwanneamaka couples her creative interests with her individuality, using words as a vessel for her expression. 
---