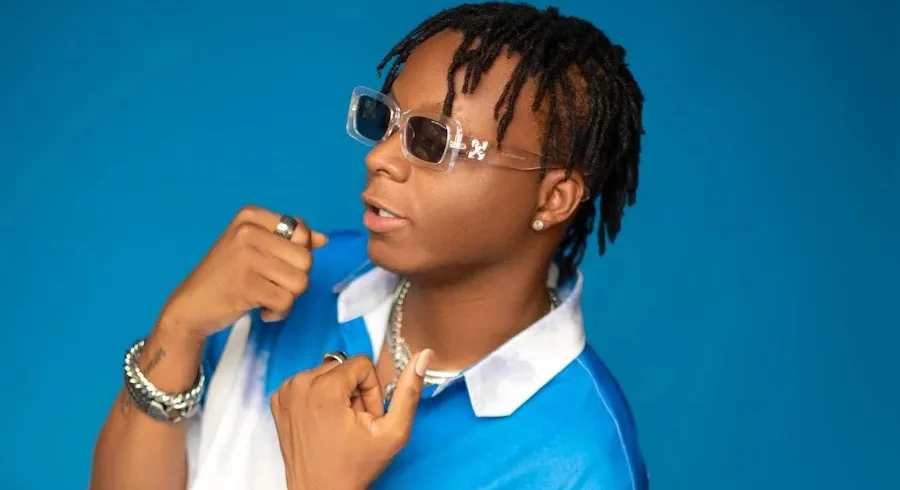 A 1-listen review of Terri's new EP, 'In Transit'
one of Nigerian pop's rising savant
What's the weight of a co-sign from an Afropop superstar? If you ask Terri, he'd probably tell you it weighs more than a tonne. Within weeks of his debut on the scene, the Nigerian singer born Akewe Terry went from semi-viral freestyle covers to a standout guest spot on a collaborative smash hit with Wizkid. In his official foray into Nigerian mainstream pop, Terri crossed an item off his bucket list, working with one of his foremost idols, the type of introduction that creates instant hype.
The flip side of that hype, though, is that it came with remarkably high expectations. Since its creation circa 2014, many artists had been affiliated with Wizkid's Starboy imprint, but Terri was the very first to be fully tagged a signee, placing him under heightened scrutiny. Although he delivered a handful of singles and features in the next few years, Terri was almost tagged a bust, since he'd yet to indelibly sear his name into Nigerian pop music conversations. By 'Afro Series', his debut tape released during the first peak of the pandemic, it was clear he was only taking the scenic route to stamping his credentials as a distinct artist beyond overstated comparisons to his mentor.
The EP spawned his biggest solo song yet, "Ojoro," and with the subsequent release of stunning slaps like the Bella Shmurda and MohBad-assisted "Money," Terri has been living up to his potential. Now independent and in full control of his destiny, the singer is looking to level up, which is where his new EP, 'In Transit', comes into play. How much has Terri grown in the last two years? Where is he looking to go next? The answers are in these six songs, so let's listen to them.
In Usual 1-Listen Review Fashion, All Reactions Are In Real-Time While The Music Plays. No Pauses, Rewinds, Fast-Forwards, Or Skip.
"Danger"
Lead singles as opening tracks, what a concept. Shout-out to early 2000s R&B. This song is an R&B engine under the hood of a Nigerian pop body. I really like the way Terri's voice luxuriates on this beat, it sounds like the music was specifically arranged for. Only one of his contemporaries that would sound as good here might be BNXN. That small bit of call-and-response on the second verse is a cheat move. There it is on the hook again. I played this a few times, between release and the video drop, but I like it a lot more as an opener. Great intro.
"Holy Water"
This build-up has me a bit anxious. Another "Afropiano" song, LOL. This is more deep house mixed with Nigerian pop verve, I wish more people get it, instead of lazily just saying it's Amapiano-inspired. Meanwhile, Terri sounds confident, like someone walking into an event with a black card. The lyrics are little lacklustre, wish they had a bit more edge. I like his cadence, but when your lyrics are not jumping out of the page, you might have to try a little harder, which means that confidence will lose some of its lustre. I can see this doing commercially well, but it doesn't match the same all-round brilliance of its preceding song.
"Wanna Know"
P.Priime tag, I'm up! This is a slightly different bounce than what he's been giving pop singers recently, which is another mark of his versatility. This beat is clearly in Terri's wheelhouse, and he sounds very in control of his surroundings. I think he sounds a little more effortless than his debut EP. I noticed that on "Money" as well. Terri makes music for Yourba guys that wake up and text five different women like they are the priority of their romantic existence. There's a woodwind instrument that keeps catching my ear. This entire beat is packed with a bunch of things, but it doesn't sound busy. This is a good song.
"For Here"
This is going to be up-tempo. BOOOOOOO! I expected a better bounce. This is the first time Terri is getting into his preppy bag, which makes sense because he has to try on this beat. I don't know, man. This sounds quite stock. Even the log drum use is not giving any flavours, which is weird. I don't know why my brain just went there, but this sounds like a poor person's version of "Sungba." I want justify this take as something not overwhelmingly negative, because I can see its appeal in a club setting. I just don't see myself reach to click play on this ever again.
"Chargie" (w/Mugeez)
2000's R&B-inspired guitars lodged inside Nigerian pop bounce is officially a staple. Terri is singing, singing. Not in terms of hitting notes, more in the way he's serenading his love interest. Yeah, this is that jam. See what I was saying with that Yoruba boy thing, because who says stuff like, "You're my chargie, you give me reasons to love." I know some people started an Afrobeats Hall of Fame thing, so let me just put it out here that Mugeez should be inducted in that thing—that's if they're looking beyond Nigeria sha. Quick verse but it's a nice touch. Terri is quite versatile if you go through his catalogue, but this mid-tempo, R&B-influenced bag is undeniable. Absolutely zero misses.
"No Lie"
Last song, let's end on a good note. Songs like this make me thank God Runtown made "Mad Over You." "Na your type I dey pray for morning devotion" proves my Terri theory, man. He's even adding a dose of religion in there. Fellow city boys, Terri is giving guys captions and texts for those early morning things. The rhymes on this hook are competent, but they add up to a wonderful whole. I like how Terri's voice is casually animated, but cool enough to not make it sound like he's trying too hard. This is a solid closer.
Final Thoughts
On first listen to 'In Transit', I count one skip, one maybe and four good songs—maybe two great ones even. That's a beyond respectable shooting percentage from Terri, who continues to establish himself as one of Nigerian pop's rising savant. The EP is a breezy run of songs with quip-laden writing, consistently assured vocal performances, along with apt beat selection to match.
The growth from his last project is quite evident, with Terri oozing an effortlessness that wasn't part of the package on 'Afro Series'. Of course, that tape had experimentation and wide-eyed approach as its gambits, but this time around, he's in a confident groove on the best songs here. The adventures with upbeat, House-inflected styles don't work too well, but it would've been nice to hear Terri swing for a few more sonic surprises. For what it's worth, the peaks far outweigh the valleys, which says a lot about where the singer is at the moment.
There's still some things that need figuring out in Terri's artistry, which is a positive sign because he's taking his development in stride, earning his stripes and taking visible strides with each release. 'In Transit' means he's not hit a final destination just yet, and this is a solid representation of where he is on the journey to complete actualisation.
Listen to 'In Transit' here.
---