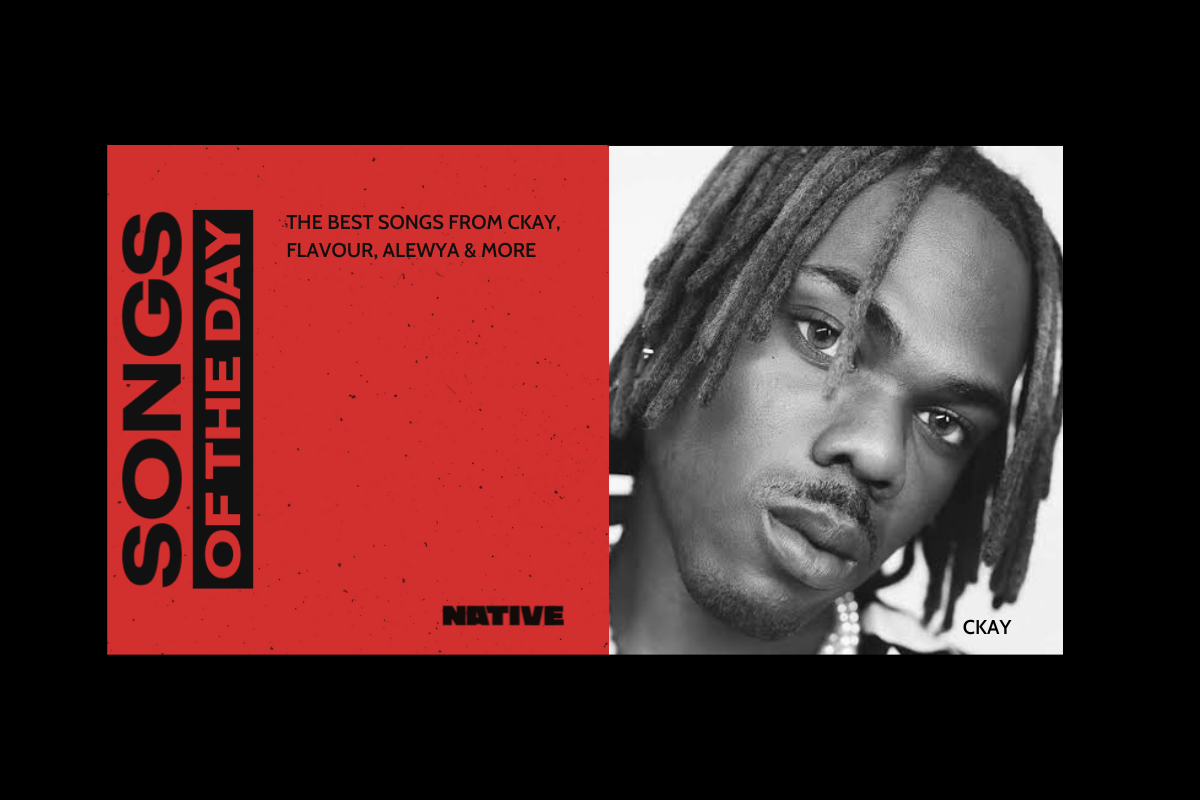 Songs Of The Day: New Music From Ckay, Flavour, Alewya & More
new music for your playlist
We're more than halfway through 2022, and it's been an eventful year for Afropop. There's been a torrent of great new music, spawning a massive stack of inventive smash hit songs. From Highlife-infused Ghanaian pop, to the unrelenting force that is Nigerian street-pop, to South Africa's indomitable Dance scene, to tantalising Drill explorations in East and Central Africa, and much, much more, we're living through abundant and musically expansive times.
Every week, many songs from African artists make their way to digital streaming platforms, and wading through them can be intense. That's where The NATIVE's Songs of the Day column comes in to help. We go through as many new releases as possible, spotlighting them here, two to three times every week. This Wednesday, enjoy new music from CKay, Flavour, Alewya and more. Dig in!
CKAY – "MMADU"
As he gears up for the release of his debut album 'Sad Romance' this Friday, Nigerian artist CKay has released a new single from the project. "mmadu" is cut from the same cloth as the previously released "you." With his trademark silky vocals, CKay serenades a love interest with assurances of fulfilling escapade between the sheets. "I go make you pass out/Girl na you go first tap out/When I roll my loud loud/Make I glide pon the ting/Make I slide pon the ting," he sings.
FLAVOUR – "MY SWEETIE"
On his new single of the year, Nigerian artist Flavour goes the love route. "My Sweetie," produced by Masterkraft, is an uptempo Highlife song wherein Flavour expresses gratitude to a lover for bringing joy into his life. "I don travel local and overseas/Looking for true love and I never see/I don try many logic e no work/Just when I want to give up you come," he sings. In the colourful video, directed by Patrick Ellis, Flavour and his crew of dancers sport African prints while they show off their dance skills.
HARRYSONG FT. KOLABOY – "CHI CHON TING"
On "Chi Chon Ting," Nigerian singer Harrysong invites Kolaboy to mock the failed plans of enemies to pull him down. The song's title is a Nigerian contraption of the words "See Something," which in the country's parlance means to experience a life-changing situation, whether good or bad. "My mama chi chon thin/My stepmother show me chon thin/Because the life that we live in is a big chon thin/So, if you no like me/You go chi chon thin eeeh," Harrysong sings.
B-RED – "FAKING IT"
Nigerian singer B-Red's new single "Faking It" is a mid-tempo tune about unrequited love. Produced by Napij, B-Red complains to a love interest about her not acknowledging the efforts he makes to strengthen their relationship. "Shey you make them see and believe that you're not dating me?/You are heart breaking me," he sings.
;
DUNSIN OYEKAN – "FINGER OF GOD"
Following his brush with death in a car accident a few weeks ago, Nigerian Gospel singer Dunsin Oyekan releases a thanksgiving song "Finger of God." The song is a soul-stirring tune as Oyekan and his backup singers acknowledge their humanity and the power of the Most High that reigns in their life. "It's not by my power/And it's not by might/I'm not that intelligent/But for grace," he sings.
STARMIX CHIZZY FT. ELTEE SKHILLZ – "KASAKE"
Nigerian duo Starmix Chizzy collaborates with Eltee Skhillz on "Kasake," a House-tinged tune. The trio sing about their aspirations for a comfortable and luxurious lifestyle. They namecheck Nigerian artist Asake, signalling him as one of their inspirations to reach the top of their careers.
ALEWYA – "LET GO"
British artist Alewya returns with a new single "Let Go" after her 2021 debut EP 'Panther in Mode.' Accompanied with a video directed by Rawtape and Lee Trigg, Alewya is a swaggering singer and rapper on the track, which pulses with both African drums and heady EDM production. Alewya, who has Egyptian and Ethiopian heritage, is also a lone performer in the video that features flashes of her hieroglyphic-style illustrations. She breezes through the track, reinstating her confidence and self-belief, refusing to be put down by life's challenges. "Walk up in your spot widda a bigger blacker swagga/Attitude on loving but don't play my heart be ready/Alewya keep it cool/Alewya keep it steady," she raps.
Featured Image Credits/NATIVE