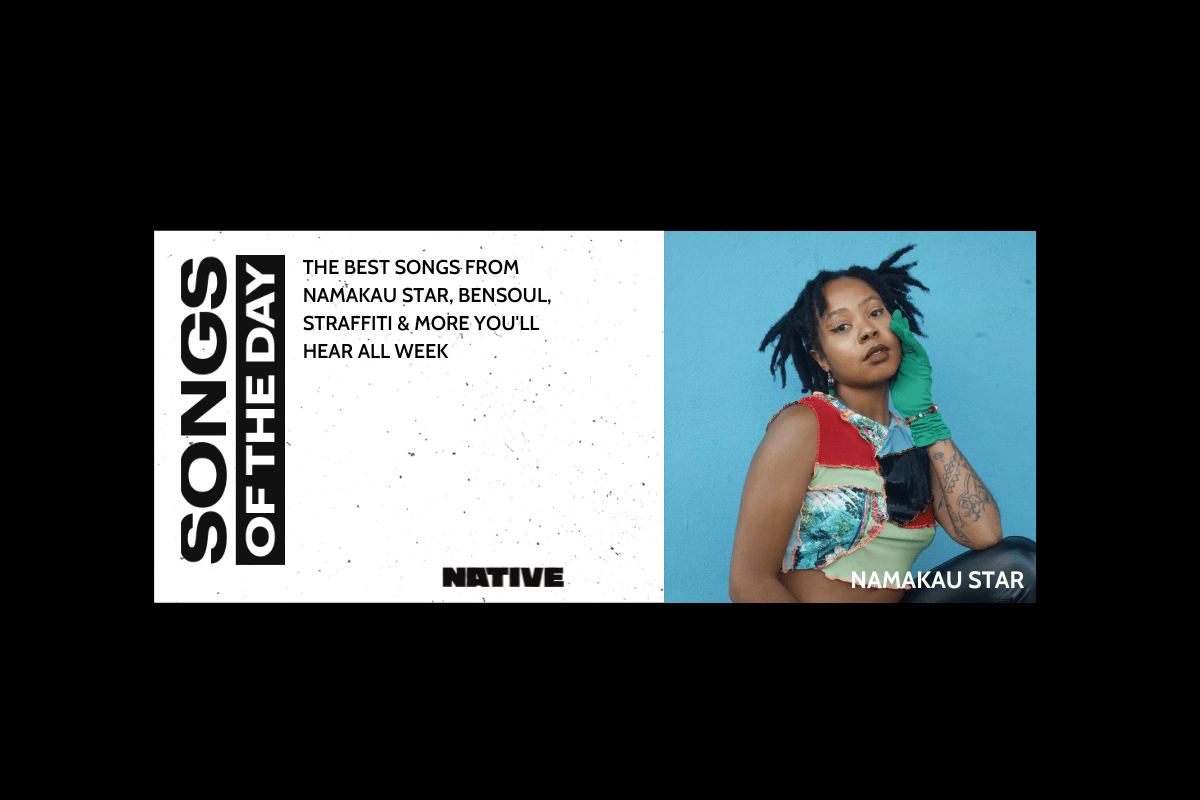 Songs of the Day: New Music From Namakau Star, Bensoul, Straffiti & More
start off your week with these jams
We're halfway through 2022, and it's been an eventful year for Afropop. There's been a torrent of great new music, spawning a massive stack of inventive smash hit songs. From Highlife-infused Ghanaian pop, to the unrelenting force that is Nigerian street-pop, to South Africa's indomitable Dance scene, to tantalising Drill explorations in East and Central Africa, and much, much more, we're living through abundant and musically expansive times.
Every week, tonnes of songs from African artists make their way to digital streaming platforms, and wading through them can be intense. That's where The NATIVE's Songs of the Day column comes in to help. We go through as many new releases as possible, spotlighting them here, two to three times every week. For this weekend edition, we're spotlighting new drops from Namakau Star, Bensoul, Straffiti and more. Tap in, and you'll definitely find new sounds for your playlist(s).
NAMAKAU STAR – "FLOATING"
This uNder alum is really one of the most creative musicians working today but we'll allow the music talk. Over the weekend, she fronted her debut project, a 7-track EP titled 'Landing'. On this standout her R&B qualities come to the fore, but she's also airy in her deliveries, a rapper in the mold of Amaarae. Her strong vocals and ethereal melodies combine for atmospheric bliss, a perfect world of sound where Namakau Star is the lone goddess. 
BENSOUL – "ANOTHER"
Few musicians around East Africa can effect the mesmerising pull of Bensoul's vocals. He's proven it countless times, releasing each new song to credible reception among his burgeoning listener base. Given the quality of his new release "Another", the Sauti-Sol affiliated musician would sure be extending his run. "Another" is a song about the losses of a heartbreak, packing the kind of melancholic allure you'd expect from a jilted ex-lover. The production is really competent as well, building soft layers of percussion sound underneath and using the sax to electrifying effect. 
STRAFFITI – "RICH GIRL"
Usually found in the folds of rap, Straffiti delves into colourful traipse of pop in his latest drop. "Rich Girl" sees the artist adapting the technical skills of rap into a world building exercise, and only two characters exist in that world: he and his love interest. Flowing around a bubbly beat, Straffiti sings of not having much money compared to her, portending the biggest reason why they might or might not become lovers. 
DETAILMADEIT — "UP"
The Abuja rap scene has witnessed the entry of phenomenal talents in recent years. Detailmadeit occupies a unique spot within the space, both as a rapper and a creative entrepreneur. His most recent mixtape combines those facets into affirmative records steeped in the bustle of a hustler. Likewise, his newly released visuals for "Up" pairs striking scenes of opulence into his lyrics which flit from lived-in braggadocio to societal concerns. It's a glossy presentation for a really slick record, highlighting the poignant ways the capital city's rappers are marking themselves out.
SIR DAUDA – "JARA"
In a career that's close to a decade, Sir Dauda is something of a mystique in Nigerian music. He's associated with rappers like Show Dem Camp and Falz, but also shares strong experimental tendencies which more or less marks out his brand. "Jara" is the artist's latest drop and is possibly his most pop-sounding record. Even his songwriting unfurls more simply in the eternal message of love, carrying Dauda's passionate singing straight into the listener's heart. It's a song you can't help but fall in love with. 
ARRDEE – "COME & GO" FT. BLACK SHERIF 
British rapper Arrdee was recently in Nigeria and as far as we know, has been collaborating with continental acts during and after that time. On the remix of "Come & Go", he's joined by Black Sherif, both of them trading tales of their life and what they've had to sacrifice for their current comfort. Sherif's verse is particularly searing, flowing impressively from his Twi language even while merging the cadences of Highlife into Drill's recognised rhythm. The song also features in 'Pier Pressure', the new album from Arddee.