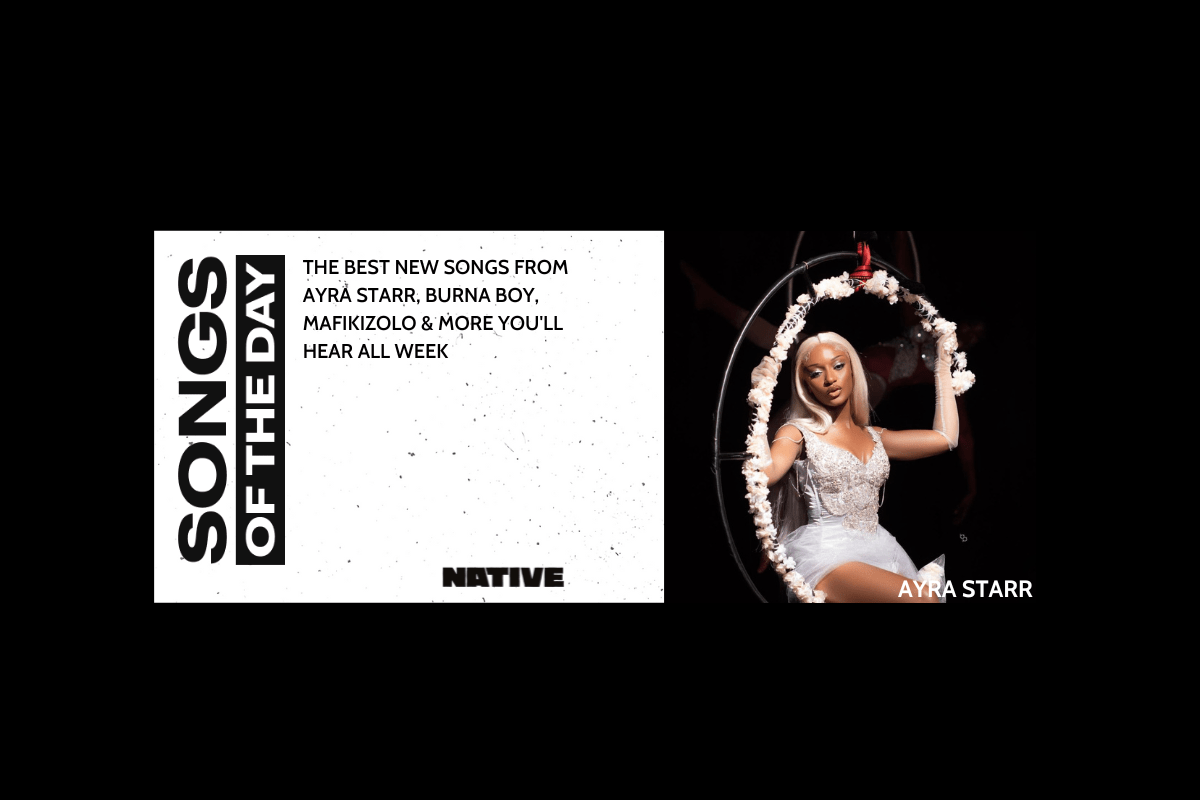 Songs Of The Day: New Music From Ayra Starr, Burna Boy, Mafikizolo & More
new releases for the new week
We're more than halfway through 2022, and it's been an eventful year for Afropop. There's been a torrent of great new music, spawning a massive stack of inventive smash hit songs. From Highlife-infused Ghanaian pop, to the unrelenting force that is Nigerian street-pop, to South Africa's indomitable Dance scene, to tantalising Drill explorations in East and Central Africa, and much, much more, we're living through abundant and musically expansive times.
Every week, many songs from African artists make their way to digital streaming platforms, and wading through them can be intense. That's where The NATIVE's Songs of the Day column comes in to help. We go through as many new releases as possible, spotlighting them here, two to three times every week. This Friday, enjoy new music from  Burna Boy, Ayra Starr, Mafikizolo and more. Dig in!
BURNA BOY – "IT'S PLENTY"
Nigerian artist Burna Boy has released the video for "It's Plenty" off his sixth studio album 'Love, Damini.' The Troy Roscoe-directed visuals capture the fun feeling of the song as it shows Burna Boy and his fans rocking to his stage performances. The video also depicts shots of Burna Boy and his fans in the UK dancing and spending their days in enjoyment.
AYRA STARR – "BLOODY SAMARITAN (REMIX)" FT. KELLY ROWLAND
Mavin Records' artist Ayra Starr has followed up her popping tune "Rush" with a Kelly Rowland-featuring remix of "Bloody Samaritan," off her debut album '19 & Dangerous.' As she gears up for the release of the deluxe edition of the project, American singer Kelly Rowland taps into Ayra's infectious self-confidence, hailing herself and Black women all around the world. "Ayra and Ms Kelly on a hit, hit/Only ring is celly when I'm lit/Girl we be telling them/All my feminine melanin represent/Gotta give glory to most high," Kelly Rowland sings.
PORTABLE – "AZAMAN"
Since his breakout with last year's "ZaZoo Zehh," Nigerian artist Portable has courted controversy with his infamous online rants. On the music side of things, though, he has been consistent, putting out single after single, even releasing the 'Zazuu Zeh' EP earlier this year. His latest single "Azaman" is a delightful blend of Amapiano and Afrobeats. Portable uses the song to address the inhumanity that comes with powerful people trying to take advantage of those in need of help. "No trust person o/Na them go rip you/Them go call police o/Make dem arrest you o/You go wise," he sings.
WHITE MONEY – "EGWU" & "YOU BAD"
Budding Nigerian artist White Money continues his foray into music with a two-song pack. "Egwu" and "You Bad" are both set on Amapiano; on "Egwu," White Money calls on listeners to join in his party and on "You Bad," he encourages listeners to believe in themselves and steer away from their path due to detractors.
TOLU MOGUL – "WHAT DEY SUP" FT. MINZ
Indie Nigerian Afropop artist Tolu Mogul taps fellow Nigerian artist Minz for the mellow "What Dey Sup." Tolu Mogul and Minz sing of evading bad energy and holding on to positivity. "God damn, I've had enough/Gonna pour a little Vos/Money on my mind/Trying to knock my shades off/Me I no be ju/Everybody clear up," Tolu Mogul sings.
BEEJVIBE$ – "BAD"
On his new single "Bad," Atlanta-born Nigerian artist Beejvibe$ pours adulation on a love interest. Throughout the up-tempo tune, he sprinkles references to Nigerian artists and their songs, displaying his connectedness to the Nigerian music scene.
MAFIKIZOLO – "10K" FT. SJAVA
The visuals to South African duo Mafikizolo's "10K" featuring fellow South African artist Sjava is here. The track is from Mafikizolo's twelfth studio album 'Idwala.' The Slowman Films production shows Mafikizolo and Sjava in colourful attires transmuting the sultry energy of the track onto the screen.
Featured Image Credits/NATIVE