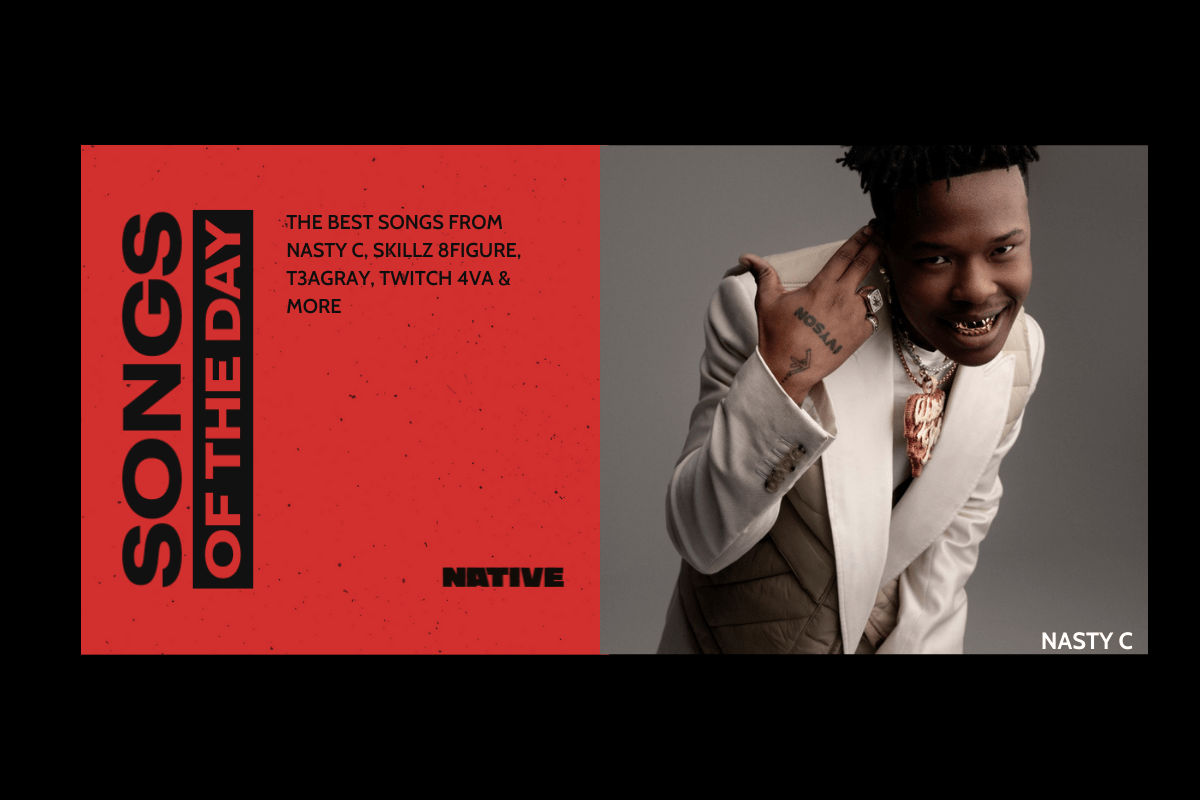 Songs Of The Day: Nasty C, Skillz 8Figure, T3agray & More
new releases to start the week
2022 is no longer a new year, and Afropop knows that very well. As much as the previous year was packed with scene-defining achievements, especially within the context of global growth, the only way to keep the momentum from falling off is for artists to keep reaching into their bag for great music that holds the ears and captures the hearts of millions of listeners across the continent and well beyond. That's exactly what's been happening, so much so that there's hundreds of new singles, at-least one new must-hear album and a new smash hit every week.
Amidst this torrent of new music, The NATIVE is committed to highlighting the best releases you need to hear, and possibly add to your playlists. That's the essence of our 'Songs of the Day' column. Last week we brought you songs by Tekno, Bad Boy Timz, Lady Du and more. For today, here are songs from Nasty C, T3agray, Nviiri The Storyteller, Skillz 8Figure and more.
Nasty C – "Can't Imagine"
Few MCs are able to consistently talk their shit without sounding redundant. Not Nasty C, whose lyrics are usually spiced with anecdotes from his life, often setting up the grandiose with relatable bars about his come-up. On "Can't Imagine", the Durban native again trods the path, ripping up an electric production that sounds fitted for his larger-than-life persona. "I can't imagine my kingly self trying to mingle with y'all/ Or talking down on those above me just to fish for applause," he raps on the first bars, underscoring the game that's got Nasty the respect of his rap elders and peers.
Skillz 8Figure – "Section" ft. Kaley Bag
The Ghana-based Sierra Leonan artist displayed his musical qualities on last year's 'After Dark', experimenting with sounds from trap to afro pop. "Section" has him delivering in zesty fashion over Jassy Jossie's synth-heavy production, singing of the pleasures in his life. Kaley is as well animated, complementing the lucid gravitas of Skillz's hook with a more enunciated verse, bringing heat to the cool.
T3agray – "Be My Friend"
The US-based artist made his name with emo-suffused songs, weaning his heart's stories for experiences that are no doubt universal. The Fresh Meat alumni has kept also kept a prolific streak, putting out two projects since 2020. "Be My Friend" possesses the brooding feels of his other music but on closer attention, it's actually a love record disguised in melancholic melodies. "Hey, do you wanna be my friend? I promise not to let you down/ I promise we'd drive out to town, with the windows down," sings T3agray on the record's bridge, expressing its warm sense of movement.
Nviiri the Storyteller – "Jealousy" ft.  Darassa
This new record from the Kenyan musician pairs rolling drums with Latin-style keys, energetic in the typical laidback style of Nviiri The Storyteller. With his svelte vocals telling the tale of a jealous lover, Nviiri plays around with his delivery, adopting a cadence that swings like a belly dance. On the song's second verse, Darassa is equally affecting, dropping a verse that brief yet potent, further hitting home the song's message.
Twitch4Eva – "Moko"
Budding Ghanaian artist Twitch 4Eva has won the hearts of many with his emotive music, sliced into fascinating pockets of local sounds and experiences. Last year he released two songs, a remix of "CHASKELE" with Nigeria's Oxlade and the other being "Give Up". Both showcased the undeniable talent of Twitch; with 2022 here, he's made his official bow with "Moko". He flows over a rap-inflected beat, blending easy lines about living his life in Pidgin English and Twi. "I dey look for money, make nobody come worry me," he sings.
ChuxChu – "Weakness"
Having collaborated with a number of afro pop stars from Ayo Jay to BNXN and Wani, ChuXchu has established his talent. On new song "Weakness," he charts the helpless feeling of being in love, his sweet vocals capturing all the wistfulness of the theme. "Needless to say I'm speechless, nothing to fill my weakness", he sings on the song's intro, riding the string-based melancholy of its production.
Majeeed – "No Room For Love"
Nigerian artist Majeeed released his 'Bitter Sweet' EP over the weekend, a succinct listen of six songs influenced by the bubbly landscape of contemporary afro pop. A standout on the record is "No Room For Love," which rings with the delicate angst captured in the title. Majeeed sings of a toxic relationship, straddling the zones of affection and hatred for the ways he's being treated. It's as affecting as such themes can be, and Majeeed's vocals are accomplished atop the production which ripples with warm percussions and horns.
Featured image credits/NATIVE
---