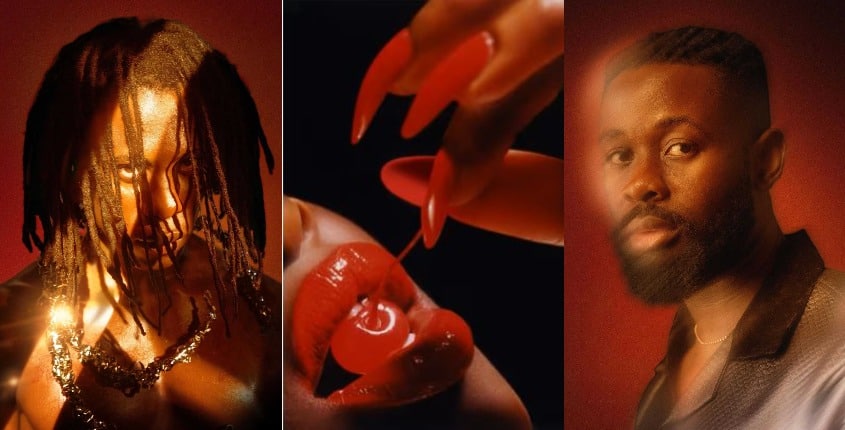 1-Listen Review: Sarz & Obongjayar's 'Sweetness'
A daringly crafted EP with high replay value
Many times, collaborative projects are borne out of clamour from fans who believe two artists have the capacity to share airspace and merge across a cohesive body of work. Some other times, they are borne from intrigue between both artists, a sense of kinship largely untouched by the external pressure of expectations, and forged through the speculative and creative process of making music. In the last few years, Sarz has gone the latter route, putting out collaborative projects with artists he finds intriguing rather than the usual suspects he's worked with over his sprawling music production career.
Less than two months since his last, the Nigerian producer has returned with 'Sweetness', a new joint project with Nigerian-born, London-based singer/producer Obongjayar. Born and raised in Calabar, Steven Umoh migrated to London at 17, and he's spent the majority of the years since transforming his musical identity from U.S. rap aficionado to avant-garde Soul singer. Across his wondrous discography, Obongjayar's music is rooted in a profound awareness of himself and the world around him. Combined with a sonic palette that liberally pulls from Electro-Soul, Jazz, and Afrobeat, his gravelly voice is constantly arresting.
The arrival of 'Sweetness' comes with new possibilities, a chance for both artists to push each other in new directions. Let's get into the music.
In the usual 1-listen review fashion, all reactions are in real-time while the music plays. No pauses, rewinds, fast-forwards or skips.
"Sweetness"
Wistful opening, very gentle build-up but it's bursting with life. Obongjayar's singing is as tender as the moment you lean in for your first kiss with your crush. This Disco-influenced bounce is bulbous enough to fit into a house party playlist, but it's very sensual at its core—basically, it's for two lovers on the dancefloor. Acknowledging you're not the only one in an interest's life is a hallmark of romance in the 2020s, everything's gotten complicated and we wouldn't have it any other way. Sarz knows how to work his synths which is a trite thing to say because he wouldn't be so revered if he didn't. I really like this opener, sounds like a keeper.
"Gone Girl"
Electronic sounds, glittering keys, and a delectable Afropop knock. Obongjayar's singing has far less heft than I associate him with and it fits perfectly, he sounds aptly wounded by this woman who jilted him. I wish these lyrics had stronger evocative details, I can see the scene and I can feel the emotion but he's usually better at showing rather than telling. The melody is fire, though, and that's probably the most important component to match Sarz's neon-coloured beat. Sarz went to the '80s and it's unlike anything in Pop music, which is remarkable considering how much that era has been mined in recent times. This chorus is deceptively anthemic. Another strong one.
"If You Say"
The build-ups on these songs will have you itching to hear what's about to happen next. These drum patterns, next to these keys, are simply wonderful. You can tell where the inspiration is from but they have a novel feel to them. "Don't tell me the things I want to hear/it's the things that you do when I'm not there" is an interesting way to frame romantic reciprocity. The heaves in Obongjayar's voice is a trademark from the '80s, I can hear "Smooth Criminal" and a bunch of other classic Disco melodies somewhere in there. Disco and current Afropop don't have the deepest relationship. Off the top of my head, I can only think of Odunsi's rare. and Kidi's "Next Time I See You," so all of this is very refreshing.
"Nobody"
Last song on the project and I'm a bit mad that this is ending in a few minutes. This has that club-ready bounce, my upper body is threatening to jump out of my waist. I think that image should show how terrible of a dancer I am, but more importantly how bewitchingly groovy this is. Obongjayar sounds preppy, something like a typical Afropop singer but with his own gravelly twist. Ooooh! This breakdown! I can see people in swanky nightclubs doing gentrified versions of the Focus dance to this. Sarz is a genius, fam. I've never really associated "fun" with Obongjayar's music, this EP is making me rethink all that.
Final Thoughts
On paper, Sarz and Obongjayar operate on two different musical planes, but that's the thrill of these types of collaborative projects where distinct styles collide with purpose and yield great dividends for both artists and listeners. At only four songs, 'Sweetness' makes a definitive statement in its brief and compact run-time. Sarz and Obongjayar have turned out an EP with experimentation at its heart, with both artists finding common ground by venturing into exciting territory.
With '80s Disco and Electropop as the main musical references, 'Sweetness' uses these distinct sounds as the framework for its innovative verve. This retro-futuristic music that's firmly rooted in the present; buzzing synths, glittery keys, and thudding drum patterns merging with expressions of modern-day romance. The rub-off effect is evident: Sarz is arguably in the most cerebral element of his career, while Obongjayar delivers some of the catchiest melodies he's ever sung. To an extent, both artists adjust to each other's sensibilities, but they do so in a way that pushes them forward and leads to individual gains.
Sweetness is a short project—perhaps too short—and the payoff will be in its replay value. Daringly crafted and airtight in its execution, it's the sort of EP that will compel you to hit the repeat all button.
Listen to Sweetness here.
---
@dennisadepeter is a staff writer at the NATIVE.
---