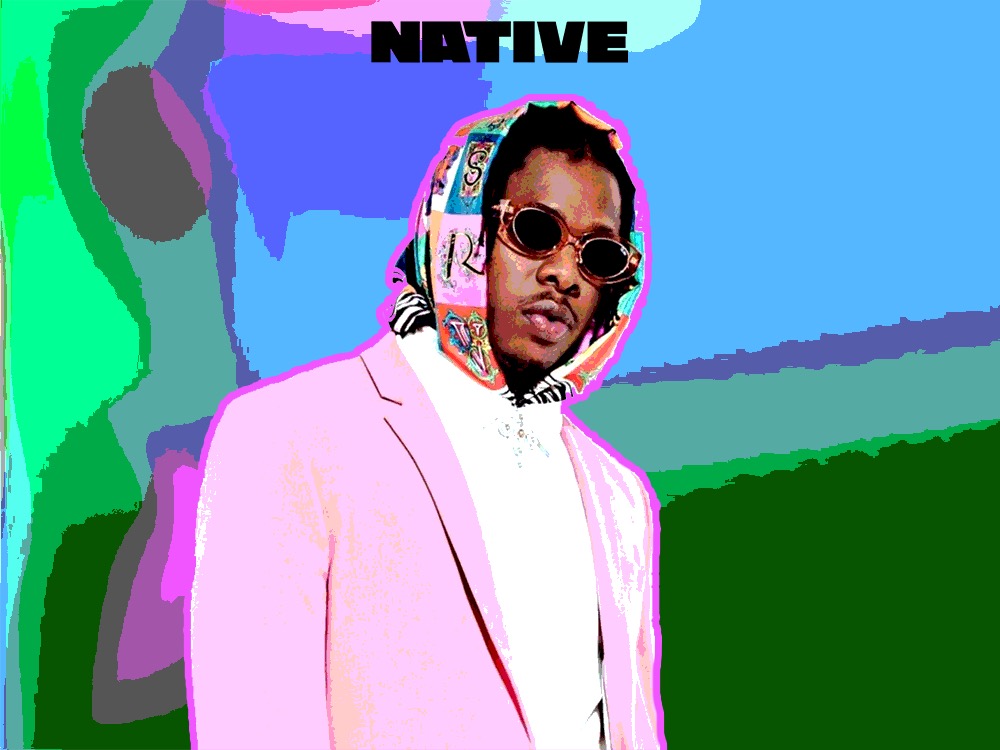 After A Year Away, Runtown Makes His Welcome Return With New Album 'Signs'
Sound God is back
After getting a glimpse of the soon-to-be star in the heartwarming video for Davido's "Aye," undeniably one of the biggest love anthems in Nigeria, Runtown's presence and impact has been magnanimously felt all across the music industry. It was in 2014 that the Afropop star earned his breakout with Davido on "Gallardo," and since then, Runtown has with a plethora of releases, proven himself an exceptional trailblazer and hitmaker in these parts. His discography is coloured with promising singles including the Phyno and De Boss-assisted "Got It in My Vein," and "The Latest," which are deep cuts that showcase the depth of his artistry. However, there's no denying that he solidified his position with the release of 2016's chart topping single, "Mad Over You."
That year, while gearing up for the festive detty December season, artists were dropping new releases at breakneck pace and "Mad Over You" sat comfortably within that repertoire of party-starting records which took over the clubs and airwaves. To an unitiated ear, the track was simply a catchy one with the memorable hook: "Babygirl you bad o, girl the way you whine/I dey mad over you girl, I day mad over you girl." However, looking back at its influence now, it's safe to say that Runtown had transformed opportunity into chart-topping success.
Produced by Del B and T Spice, "Mad Over You" was a perfect blend of R&B and Ghanian Highlife, laced with intoxicating mellow drum patterns over a mid-tempo beat that celebrated African beauty in all its glory. With clever penmanship, Runtown incorporated relatable references from Ghana: "Ghana girl say she wan marry me/I hope say she sari cook Waakye/Hope your love go sweet pass Shito," reinforcing our close-border friendships with the neighbouring West African country. Bolstered by the song's spell-binding rhythm, Runtown quickly rose in prominence off the back of the romantic record, whose Clarence Peters-directed video now sits comfortably at 143 million views on YouTube–it's the artist's most played single.
Five years later, the blueprint of "Mad Over You" is felt colossally across Afropop. Now, predecessors such as J.Derobie, Fireboy DML, Joeboy, Victony and more, are harnessing their powers fully and achieving ubiquity with their distinct flavour of Afropop, R&B, Hiplife, Highlife and more. More than just an enjoyable track, "Mad Over You" serves as an almost time capsule of 2016 where tracks such as Wande Coal's "Iskaba," Tekno's "Rara," Small Doctor's "Penalty," Dotman's "Akube," and more, were firmly in our sonic orbit.
Reminiscing on the track on Apple Music Radio's 'Africa Now' early last year, Runtown shared "It's really that song that's a blessing and a curse at the same time. It's that song that changed everything, not just for me, but for the whole industry. So, you now have to not necessarily live up to that, but a lot of people expect you to have another "Mad Over You."" Understandably, its an age-old conundrum for artists to spend many years of their career chasing the same formula laid down in their breakout single, however, that's never faired well for anyone seeking true artistic fulfillment. Despite the success of the track, it was clear that Runtown,while trying to create more hits in the future, was less bothered about creating another song that sounded like "Mad Over You."
The biggest cultural reset in Modern African History https://t.co/SfsMsQ3uor

— Fountain Baby (@amaarae) November 6, 2022
For the next three years, Runtown would put his head down and work tirelessly to perfect his craft. The releases that follow reaffirm his star power and cemented him as a household name in Afropop. Think Wizkid-assisted "Bend Down Pause" and "Said" featuring South African superstar, Nasty C, both released in 2017, which further expanded his audience well beyond Ghana and Nigeria. Both tracks showcased Runtown's skilled penmanship alongside showcasing where he was able to take his music sonically. "Said," in particular, was a testament to the artist patience as he looked back on the early days and the labour he put into his craft. Just before 2017 closed out, Runtown shared "Energy," another tuneful track with relatable lyrics. While being candid about the difficulties he faces in the music industry, he employs the melodious hook to express that any efforts to steal his joy will be rendered unsuccessful.
In 2018, Runtown was at the peak of his powers. He arrived with another love anthem, "For Life,"and shortly after, he released the Fekky-assisted "Unleash," which served as a fine showcase of his abilities. He rounded up 2018 with two more chart topping numbers; "Oh Oh Oh (Lucie)" and "Gimme Love" with Seyi Shay, produced by Sarz. Staying true to his formula, while figuring out a singular style that worked for him, he became of the most magnetic voices to emerge–and with an army of loyal listeners to prove it.
However, nothing good lasts forever. That same year, just as Runtown was dominating airwaves and charts, his career took a significant hit as he faced several lawsuits from his label boss, Eric Manny of Eric Manny Entertainment. While issues spanned across several months, it reached a peak after a collusion between the pair regarding payment of performance fees and other revenue sources. The legal battle which involved several cases of extortion, threats and intimidation tactics, dissolved in June 2018, granting Runtown full ownership and rights to his music production.
The next time we heard from Runtown, he'd bounced back from the horrors of his past and established his own music company called Sound God Music Group. With a heightened sense of autonomy, Runtown reclaimed his sound and surprised audiences with an outstanding performance on Odunsi (The Engine)'s genre-defying album 'rare.' On that same album, Odunsi The Engine also paired with artists such as Davido, bridging the worlds of alternative and mainstream music together. Runtown was an obvious standout and "Star Signs," was a huge slapper hit with memorable one-liners and smooth vocals. While it was not obvious at the time, Runtown was effectively teasing a different facet to his craft on "Star Signs," a side that would potentially resurface in the future.
A plethora of singles later, Runtown in 2019 came out with 'Tradition,' a six track EP featuring standout songs, "International Badman Killa" and intro track, "Redemption." The EP combined a range of punchy one-liners, dancefloor-ready beats and the usual palpable sincerity in his records. Without a doubt, 'Tradition' served as a reintroduction to the man and the artist–combing eclectic sartorial choices with otherworldly production. That same year, he was engaged to be married to South-Sudanese model, Adut Akech, further introducing his music to a new set of global audiences. It seemed like nothing could go wrong for the star whose ascension to household status felt long overdue.
By 2021, the pair had ended their very public relationship and Runtown had refocused his attention on his craft. That year brought with it more collaborations including the Bella Shmurda and DarkoVibes-assisted "Body Riddim," before the eventual release of Runtown's first full length LP under his label, titled 'SoundGod Fest Reloaded.' With appearances from Made Kuti, Rowlene and more, the 12-track album found Runtown gunning for new audiences by blending more soundscapes into his orbit. From the colourful bass guitar chords with reggae influences on "Understanding Love" and the rousing trumpet riffs by Made Kuti on "Mama Told Me" to the introspective track "Ghetto Gospel Riddim" with stripped down piano chords, 'SoundGod Fest Reloaded' reinforced Runtown as an artist far more than his Afropop bangers.
View this post on Instagram
Before 2021 fizzled out, Runtown appeared to be missing from the music circuit. Every other day, tweets about his disappearance circulated on social media, as fans clamoured for a new release from the famed Sound God. However, Runtown continued to lay low that year. Now, after almost two years of silence, Runtown emerges victorious with the promise of a new album. Arriving earlier this year, Runtown shared new single "Things I Know", off the back of his fifth studio album 'SIGNS.' The mid-tempo track shows Runtown declaring his commitment to his love interest as he inches us one step closer to what could be a comeback for the singer.
Aptly titled 'SIGNS,' the album title foreshadows that Runtown has his sights set on showcasing how his time away has him itching to display musical ability, both old and new. According to the tracklist, the new album will include 14 tracks with suggestive titles such as "Sinner Man," "O Fe Pa Mi," "War," "High Spirit," and "Mic Check," which quite notably does not include any featured artists. Whether Runtown is keeping these names close to his chest, or there are indeed no features on the album, it's clear to see from the song titles that this project is gunning to be one of the most honest and emotional releases this year.
Since the release of his 2021 album 'SoundGod Fest Reloaded,' the temperature of the music scene has changed and developed with new players emerging ever second, with albums that place them shoulder to shoulder with Afropop royalty. As such, with only a few hours left until the release of 'SIGNS,' it's clear that the stakes are much higher this time around, but it's pertinent that we give Runtown his flowers as he ushers listeners into the next phase of his career. With "Things I Know," Runtown is evidently keyed into the present with its subtle hints of Amapiano, while revisiting his unique style seen in the earlier parts of his career. The stakes may be higher this time around, but we're sure that Runtown will bank on furthering his creative footprint.
Featured Image Credits/The NATIVE
---
Nwanneamaka couples her creative interests with her individuality, using words as a vessel for her expression. 
---