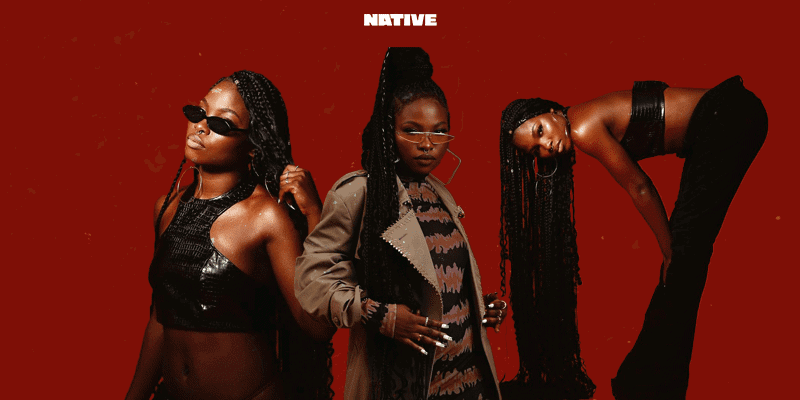 For The Girls: Ria Sean Is Forging Her Own Path
On the cusp of an explosion
Earlier in the summer, rising singer and songwriter, Ria Sean signed with Aristokrat Records, one of Nigeria's premier labels. While the moment was widely celebrated, Ria Sean's inclusion on the roster stood out for one reason: she'd become one of the few female artists to get the Aristokrat seal of approval, joining earlier acts such as Cameroon's T'neeya and Lagos' Saszy Afroshiii.
View this post on Instagram
It's no secret that the music world is heavily male-dominated. Although women have been integral to Afropop's culture, they're often shifted to the background as decoration for their male counterparts, or they are pitted against one another and maligned by critics and fans alike. However, we're now coming into times where several female artists are making music on their own terms, honing their sound and increasing their reach, and side-stepping industry gatekeepers. That's why career moments such as the one Ria now enjoys are a reminder of the strides women have made, and continue to make in the industry.
However, there's a slight chance we might have missed out on all of this, as while she was growing up in Nigeria, the singer found her first love in dancing. She tells me via a Zoom call that dancing is a form of expression that she's nurtured right from when she was a young girl. Despite not earning any professional qualifications as a dancer, the singer shares that she's always loved the free flow of movement it offered her, and she's consistently trying to imbue it in her music videos (or from the comfort of her room). When she wasn't dancing, Ria would spend her time visiting a friend's studio where she would eventually write and record her first song.
Ria Sean fell in love with music when she was 6 years old. However, she wouldn't take it seriously till she was 13-years-old and singing in the church. Raised by a hardworking single mum who made sure Ria grew up with everything she and her siblings desired, Ria, admits that she faced challenges while trying to find her footing as a young girl on the streets of Lagos. "When I wouldn't have money for transport to the studio she would help out. She has believed in the dream for so long now. She knew I was so dedicated to making music and nothing else had my attention," she tells me a few days after her debut EP's release. Emboldened by a dynamic mother who believed in her dreams, Ria Sean would take matters into her own hands, and forge a way out of adversity, using her experiences as an anchor to propel her to greatness.
It was only a matter of time before Ria's tenacious spirit would land her the tools she needed to propel her artistry–which she now enjoys with her Aristokrat deal. However, as much as what we're seeing from the singer today appears well-thought-out, defined and relatable strategy, this moment in her career has actually been years in the making. "I try to be versatile and explore new sounds and new vibes but still keep the same Ria Sean," she admits to me, as she impresses on the importance of staying true to herself while expanding the scope of her artistry.
"I make music for everyone and for the soul. Music that touches your soul and makes you feel like you want to listen to it again. I make music that inspires and spreads good energy."
The sweet spot in Ria's music seems to be that the Nigerian singer and songwriter is constantly trying to speak directly to her soul. Her recently released debut EP, 'FLUID' is a mesmerising collection of heart-wrenchingly confessional numbers which sound like a friend on the other end of the phone. Ria Sean has a knack for singing about things we don't say outright, at one moment pining for her love to please her on "Satisfy My Soul" and at another moment, demanding that she's paid what she's owed on numbers such as the promotional single "Money Bag."
With this, Ria occupies a refreshing position in today's musical landscape. She's among the leading female singers who are making their voices heard and disrupting the status quo, eschewing the times where only one female singer could be on top at a time. As part of a new generation of female artists putting lyrics to our infinite moods, it's clear that Ria Sean is here to redefine what it means to break barriers as a female artist today.
Now, off the back of the incredible fanfare she's received from her debut EP, the singer is now offering listeners and her loyal fans more insight into her world by premiering the official music video for "Satisfy My Soul" today. To celebrate its release, we caught up with the singer about the song's inspiration, her background, and what it means to be a woman in the industry today.
Our conversation which follows below has been lightly edited for clarity.
NATIVE: Hey Ria, what inspires the music you make?
RIA: When writing music I get inspired by anything I find interesting at the moment. Maybe a personal experience or a particular tree that I really like. I just write about anything I want to write about. I'm really versatile and free with my vibe.
NATIVE: What was the concept behind the "Satisfy My Soul" video? How involved are you in your creative output?
RIA: The concept was to have a lot of skin in the video but there's also a deeper meaning behind "Satisfy My Soul", representing family and my sisters. The visual is me around my sister and there is a part in the video where you see me around money, so those little details are things that drive me and make me satisfied. I contributed to the visual by showing Clarence a few ideas and references of what I wanted the video to look like and he went with it, showed me what he had in mind, I agreed to it and we shot the video. I had about 50% say of what the video will look like.
NATIVE: "Satisfy My Soul" holds such a strong message, what would that be in your words?
RIA: The main message is "say you satisfy my soul", that thing that gives you drive and keeps you going and satisfied even when things aren't going well. I have a few things that I'm mainly singing about like money, family, friends and that's what we try to portray in the video.
NATIVE: Tell me about getting signed to Aristokrat Records. How did that come about for you?
RIA: It was from all the studio jobs I was doing. I was doing backup for various artists cause I needed to make money. One day I went to do a backup job and the producer at the time was a guy called Lyriq and he heard what I did and he was interested in working with me. We talked and I worked on some records with him. He was linked to Aristokrat's and he played my music for them and they were interested in me. They didn't sign me immediately but they had an eye on me. I was just doing my thing and they signed me a year later.
View this post on Instagram
NATIVE: What's it like being a young female in the music industry today? 
RIA SEAN: I don't really know how to answer this question when I'm asked because I'm so focused on just getting what I want to get, the positives and not the disadvantages. I could say that being signed made things a lot easier because things weren't as easy for me before I got signed as an independent and female artist. Money is an issue, being a woman is an issue because you have to do a lot more and beat people's expectations and you have to come out of your comfort zone. Because of the passion and love I have for music, I know music and I know what I want for myself, I haven't paid attention to the negatives.
NATIVE: What would you say are the differences between being independent and signing to a label?
RIA: Being an independent artist, you do whatever you want cause it's just you and there's this certain freedom you have but it's hard when you don't have a team. When you're signed you're working in a team and you want to do better and go the extra mile because there are a lot of people you're working with. so it's pretty easy to work in a team than being independent because you have to be creative and there is also a business side to it like planning so many things like interviews and making money. Money is a strong factor when you're signed. You can make it as an independent artist if you have the connections and money but it's easier when you're signed. Both sides work fine but being signed is easier for me because when I was independent it wasn't easy.
NATIVE: Talk to me about your perspective on women owning their sexuality and reclaiming their bodies. Why do you think it's important for listeners to associate you with that message?
RIA: At the end of the day it's my body and I do whatever I want. Sexuality doesn't have to be showing off ass, skin, boobs and all but me personally that's how I feel comfortable showing myself off, I'm a sexy being and I like that. Sexy can also mean being smart, your mindset and how you see things. I want to spread the energy to women in the world that you should be comfortable in yourself, wear what you want and just be you. Women go through a lot like being on their period and having cramps and all. You're the one carrying all that burden so you should feel okay to carry your body how you like as long as it's not hurting anyone. Whatever decision you want to make with your body then do it as long as it's something that makes you happy and satisfied.
NATIVE: Would you say your work is contributing to the changing landscape of Afropop music?
RIA: I'd say my work adds to the landscape of Afropop because there are so many other people in the world making similar music. I don't plan to change it but add to the music I've grown up listening to and I'm just gonna come and contribute to it. Imagine it just being me, it would be really boring so the only way it could be beautiful is by adding your own vibe to it.
NATIVE: What should we be expecting from Ria Sean? Any new projects coming soon?
RIA: I have more EPs and albums coming out. But all next year. I am putting together a merch soon but I'm still trying to work everything out.
Watch the video for "Satisfy My Soul" below.
Featured image credits/NATIVE
---