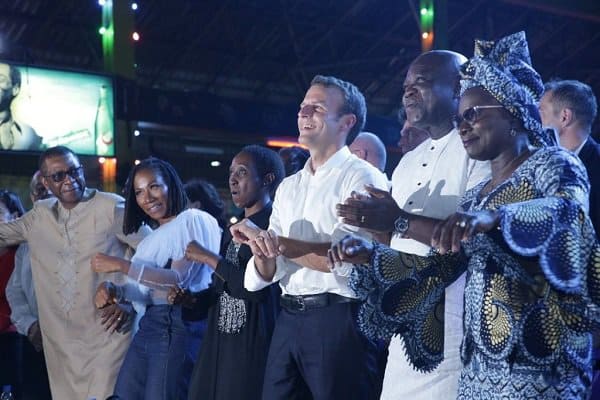 President Macron of France stops by Fela's New Afrika Shrine
To celebrate the launch of Season of African Cultures 2020
Last Night, President Macron of France visited Fela's New Afrika Shrine, Ikeja for the launch of the Season of African Cultures 2020. Season of African Culture 2020 is a TRACE event in partnership with ArtX and EcoBank for a French celebration of African culture.
According to The Cable, President Macron specifically chose to visit the Fela Shrine because of the fond memories of the place he has always had from his time in Nigeria nearly 15 years ago. This is confirmed tweets that circulated the internet about President Macron's past as an intern while working with the French embassy. In his own words, The New Afrika Shrine is "a cultural hub that is very important for me first on a personal level".
According to Co-founder and Executive Chairman of TRACE, Olivier Laouchez, explained that "TRACE's mission with Season of African Culture 2020 is to support African Afro-urban music and cultures and to bring them to the world". This mission statement is reflected in the performances by Yemi Alade who is already a certified Afropopstar in France and Femi Kuti, who brought on this universally-reckoned Afrobeat style.
President Macron, flanked by Governor Ambode and Asa, took the opportunity to address youths ahead of Nigeria's upcoming political climate in 2019. "I am very happy to be here. Let me remind you that this place — shrine is a music place as well as politics which is needed to change the society. So, I will say to the youths, politics is important, be involved," he said.
He also paid homage to the Kuti empire and Fela's legacy saying, "I have a huge debt to Femi, Fela, Seun and the Kuti family. The family provides, not just this place, but for its time, its commitment, and especially the different battles of Fela, a very strong message, a message that it is possible, even now to decide your own future. Never forget."
Amen to that.
---
You are meeting Debola at a strange time in his life. He wandered into a dream and lost his way back. Tweet at him @debola_abimbolu
---