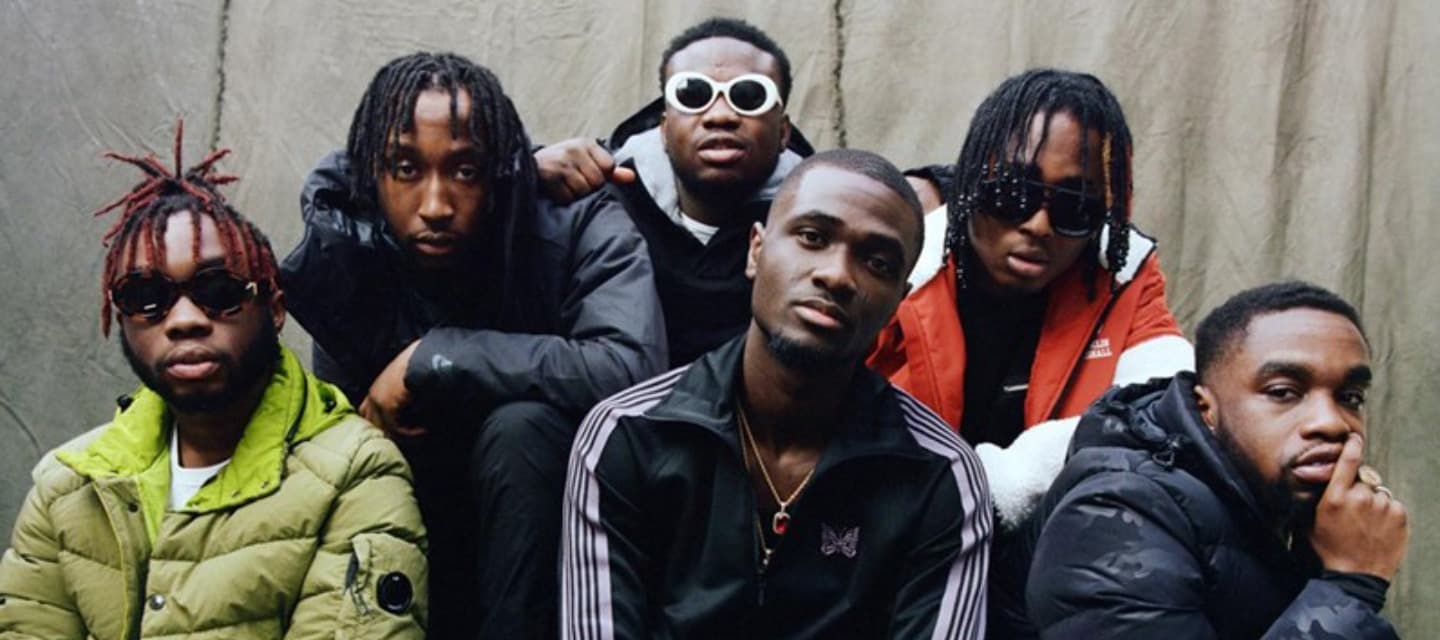 NSG bring their slice of Africa to the world with new project, 'Roots'
it's NSG's time now.
NSG is the name on everyone's lips at the moment.
We've all randomly blurted out 'trying to be the hustler of the year' or some inaudible variation of the actual lyrics for "OT Bop" at some point last summer; that's just how much of an impact NSG had in the last year. The six-man act have continuously torn up London's music scene for a few years, with their signature medley of afrobeats, grime, basement, and rap primed for young audiences. They have recently released their sophomore project 'ROOTS', and ahead of the release, we spoke to Papii Abz and Mojo, along with Kruddz, ODG, Dope, and Mxjib, about what to expect from the NSG camp this year.
NSG have owned the past two summers from Lagos to London with their singles "Options" and "OT Bop", and earned their stripes by the end of 2019, having opened Wizkid at the End's Festival in London, joined rapper, Future on the Wireless stage with only two main singles.
It doesn't take much to see that NSG are in the process of a catalytic industry takeover, both home and away. Their recent project, 'ROOTS' is an ode to their respective hometowns; Lagos, Accra, and London, where they map the cities that gave birth to their sounds and made them the stars they are today.
"W
hen we got back from Nigeria and Ghana, we felt really overwhelmed and that actually propelled us to name this album 'ROOTS'. We all just decided that the feeling needed to be embraced by everyone because learning your roots is important.
You have to embrace your roots and let it be known through the work that you do. At the end of the day, the culture never dies. We want to focus on people knowing their roots and being proud of them".
-Papii Abz
The message of reconnecting to one's roots is dotted all over their new project. Chances are that if you've come across any of the boys' social media pages, you've probably seen one reference or the other to their home countries – perhaps a mention of jollof rice here and a sprinkle of Yoruba there, leaving no room for doubt that the focus is always on Africa as their home.
"The beauty of afrobeats is being able to hear the culture within the sound" Mojo chimes in, quick to reinforce the project's central theme. The culture he is referring to is the vast array of ethnic groups that make up the African continent. Each ethnic group is impeccably distinct, with a history spanning back decades and its own mastery of eclectic sounds and instruments that boost the listening experience. NSG utilise some of these influences from Nigeria and Ghana in 'ROOTS' by displacing these sounds and honing them for a modern, youthful audience. From blaring horns to afropop drums, the ingredients are all here for a truly pan-Atlantic project.
View this post on Instagram
Never Stop Growing– wittily abbreviated to NSG have been around for many years, I'm told. 'NSG has been together for a long time, as majority of us met during secondary school' Papii Abz tells me. Raised in Hackney, London, the boys met and moved around in the same circles, as they bonded over football and music after connecting through Arts & Media School Islington. Everyone except Mojo who they met later on. Their earliest musical influences are extremely varied, and representative of the London they grew up in; they are quick to cite inspirations like Wizkid, Tu Face, Burna Boy, Wande Coal in Nigeria but also churn out names like Skepta, Giggs, and Kemzy from London where they grew up.
It's this idea of being caught between very different worlds that inspires 'ROOTS'. The project's artwork is the biggest determiner of their worlds–a tree purposely planted on top of the world with roots in Africa and a home base in London, where they all currently live. 'The project's artwork is a big representation of what makes us who we are and what we stand for. It's got the two flags that make us, Nigeria and Ghana on a kind of global scale which is where our roots are. Who we are is what makes us, and what connects with us' reveals Papii Abz as Mojo chimes in 'that's the NSG way'.
For a relatively large group, they are highly diplomatic in organising their affairs.
'
We won't go ahead if everyone's not on the same page. We have a system where everyone will voice their opinions then we will all come together and decide for the greater good of the group. And then we will do a vote and the highest vote wins' Mojo says.

This meticulousness in decision making carries on into 'ROOTS', where the selection process for producers they worked with or songs which made the project cut was extremely calculated and deliberate. They kept the work in-house, relying on producers they're already familiar with like Jae5, and Legendary Beatz and only stepping out for those who truly understood the NSG sound.
"We are very selective about producers we go to anyways. We wanted to keep the project in house, the main producer is 4play with 7 songs and Jae5 has like 2 songs. 
We also have international producers like takeadaytrip and Young Felix, who produced "MCM".
We thought they created sounds which went with our sounds especially takeadaytrip who has a lot of festival bangers and we needed that for the summer. The main thing is that it's in house job and these producers got the NSG sound on lock".
View this post on Instagram
'ROOTS' is different. The vibe is different, the message is different but the group is still the same. They're following their heart more, with some help from friends like Jae5, and taking on bigger risks. It's African but with a modern take and a fusion of different influences. Considering the features on the project–Chip and Randy Valentine, you can already tell they're being more daring with their sounds. For those who are not familiar, Randy Valentine is a reggae artist from Jamaica who works closely with producer, Jae5 as the two once formed a production team with Kevin Ababio back in 2017.
It's a new leaf for NSG. The stakes are much higher from when they first started off, now there's something to lose and more to prove. But they'll keep betting on their authenticity to stay ahead of the game. For Abz, every NSG release is put out into the world with big expectations, 'We always have good expectations for our music and know it's a good song before we put it out. For "Options", that exceeded our expectations as it peaked at No.7 on the charts. I never even thought of charts at first, I just thought of general success'.
It's the same high expectations they have for 'ROOTS' to be successful. It's what they are counting on and what they've been waiting on this whole time. This conviction in themselves is almost infectious while I'm speaking to them and it's a reaction they hope will catch on when the project is finally in the hand of listeners. This is NSG's moment and they're confident they won't drop the ball.
"Our main point is that you can be yourself, and yourself is also acceptable around the world. Embrace Africa and the world will take you for who you are".
Summer is here and NSG are prime candidates to set the season rolling–albeit from our respective homes.