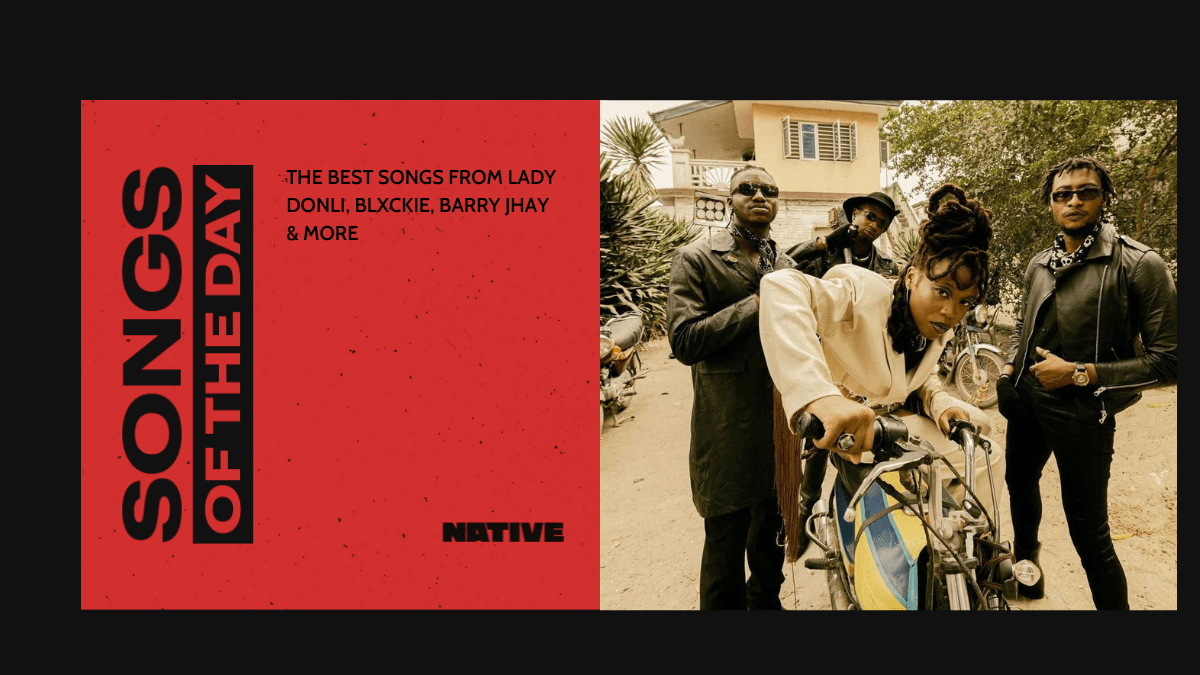 Songs of the Day: New Music from Lady Donli, Blxckie, Barry Jhay & more
New jams for your playlist(s)
2022 is no longer a new year, and Afropop knows that very well. As much as the previous year was packed with scene-defining achievements, especially within the context of global growth, the only way to keep the momentum from falling off is for artists to keep reaching into their bag for great music that holds the ears and captures the hearts of millions of listeners across the continent and well beyond. That's exactly what's been happening, so much so that there's hundreds of new singles, at-least one new must-hear album and a new smash hit every week.
Amidst this torrent of new music, The NATIVE is committed to highlighting the best releases you need to hear, and possibly add to your playlists. That's the essence of our 'Songs of the Day' column. At the top of the week, we spotlighted new releases from Tim Lyre, Lioness, Skillz 8Figure, and more. For our mid-week instalment, we have new drops from Lady Donli, 1da Banton, Blxckie, and more. Tap in.
Lady Donli – "Thunderstorm in Surulere" (ft. The Lagos Panic)
Earlier this year, Nigerian singer Lady Donli debuted her first release of 2021, "Thunderstorm in Surulere," on the digital live performance platform, A COLORS Show. She's finally released the studio version of the single, featuring her backing band at live shows, christened The Lagos Panic. The BenjiFlow-produced cut remains fundamentally unchanged, but this version carries the distinct flourishes of a recording, with multi-tracked vocals, the fullness of mixed instrumentals and even DJ scratches.
Blxckie – "Your All"
Circa Valentine's Day, South African rap artist Blxckie released a new EP, '4luv', an experimental and conceptual project that saw him croon—contemporary R&B-style—through a redemptive love story. In support of the EP, he's shared the video for "Your All," a song where the protagonist admits his toxicity towards a faithful partner. Forgoing drama for symbolic showcase, the video sees Blxckie, with a bucket hat covering his face and set against a natural backdrop, singing the lyrics with a sincerity that feels quite palpable.
K.Keed – "Pinnacle"
Fresh Meat alum K.Keed is one of the most exciting rappers working right now. In late February, the South African rapper opened the year with her new EP, 'Alter-Ego', a thrilling set of breath-taking lyricism over pounding beats, with notable features from Blxckie and Dee Koala. She's just dropped a video for the opener, "Pinnacle," a take-no-prisoners slapper with pointed raps like, "Please don't provoke me/I'm shiesty, it might get hostile." In the new music, she looks casually imperial, performing with a self-involved attitude in front of DIY backgrounds.
Barry Jhay – "Level Up"
After a wrongly-targeted police investigation briefly put a wrench in the momentum of his career, Barry Jhay has returned back on track, releasing his new EP, 'Son of God,' last weekend. The project furthers his chops as a Fuji-pop artist with a spiritual, however, it opens with a delightful surprise in the form of the melodic trap cut, "Level Up." Over moody piano chords and floor-shaking bass, Barry indulges in a sing-rap cadence, imbuing declarative lines like, "I'm never going home, so I'm going hard every day," with a soulfulness that keeps his experimentation authentic and relatable.
Boyd – "Weird Space"
Ghanaian singer Boyd makes music that speaks the relatable experience of being young with a thirst for life and new experiences. His new single, "Weird Space," slightly breaks away from the rest of his catalogue, portraying someone who's disillusioned and numb to all the excitement life keeps throwing at him. While he describes being enamoured a bubbly love interest on the sole verse, the bridge and hook are a stark contrast, stating that he feels "like plastic" and can't seem to drum up any enthusiasm. The accompanying video juxtaposes colourful settings with a mostly straight-faced Boyd, visualising the song's relatable theme.
---