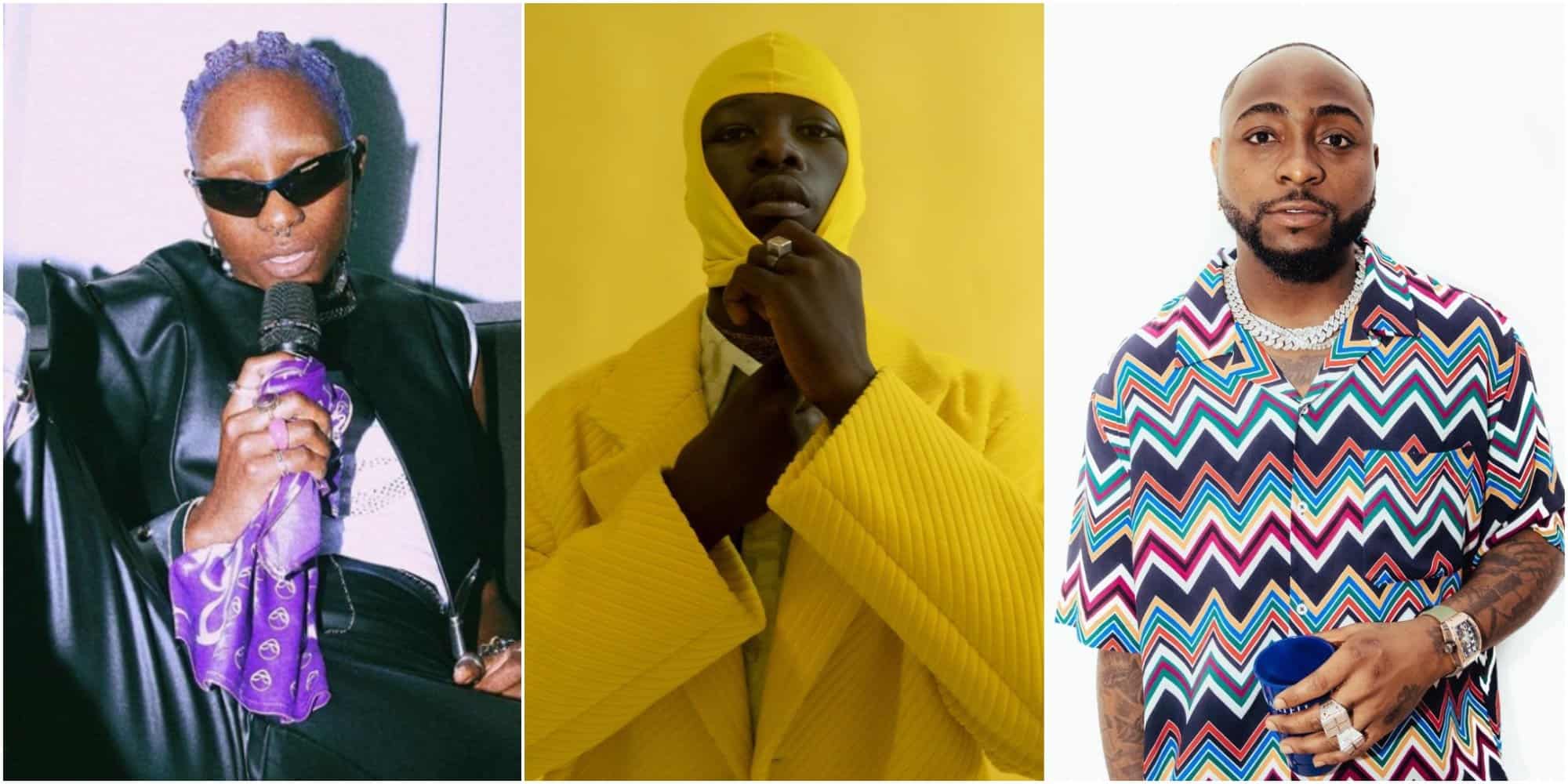 Songs of the Day: New Music from Wavy The Creator, Pa Salieu, Davido & More
New week, new tunes
More than most people, the team at the NATIVE knows that the sheer scope of music available to us at this exact moment in human history is mind-numbing but our goal is still the same as always: we don't want exciting music to be slept on. We simply cannot allow that happen. That's where our Songs of the Day column comes in. We try to stay on the pulse of music from across the continent and beyond, bringing you exciting songs from talented musicians who are continuously pushing their artistic boundaries.
Earlier in the week, we brought you new songs from Lojay and Sarz who released the widely anticipated video to their single "Monalisa", Amaarae and Kali Uchis surprise remix to "SAD GURLZ LUV MONEY", alongside new music from Kofi Jamar, Olamide, Ninety9 & more. To start the new week, we're bringing you new music from Wavy The Creator, Buju, Pa Salieu, Davido, Falz, Backroad Gee, Olamide, and more. Enjoy!
TION WAYNE – "WHO'S TRUE" ft DAVIDO & JAE5
Davido features on Tion Wayne's recently released album 'Green With Envy'. The romantic track, which samples T-Pain's 2009 hit "I'm Sprung", is produced by Jae5 and finds both artists questioning the ingenuity of people in their lives. Davido takes the lead on the chorus singing, "Don't want to meet no one new/because I don't know who's true/show me who's true". The accompanying music video finds all three artists performing their verses in grand fashion while surrounded by a pack of their nearest and dearest trusted friends. 
Wavy the Creator – "Stella Riddim" ft. Ckay & Efya
Since the release of her genre-defying sounds in the promotional single "Harmonies", assisted by the soulful vocals of WurlD, it was a no-brainer that Wavy the Creator's debut EP 'P.S Thank You for Waiting' would be a promising project from our favourite self-proclaimed alien. The young Nigerian artist delivers an out-of-this-world performance assisted by Ckay and Efya on standout track "Stella Riddim", the fourth number off her debut.
The sensational beat draws us into the track from the song's opening moments, preparing us for her usual soul-stirring vocals. Wavy sings "The way you move is out of this world/I can't deny your love is fire," a line so perfect that you're almost lost in her spell. Ckay further elevates the track as he quips on the memorable hook "Girl if you look into my eyes, you can desire/ and I'm looking at your body, all I see is fire," directly addressing his lover who he can't get off his mind.
Pa Salieu – "Style & Fashion" ft. Obonjayar
Gambian-British rapper, Pa Salieu has just realised a new 3-pack EP titled 'Afrikan Rebel' with features from Obonjayar, Zlatan, and Tay Iwar. On the standout number "Style & Fashion" with the British-Nigerian singer, Obongjayar, both artists are seen performing on their best form, delivering an electric set that's guaranteed to get you moving. Over the bouncy beat produced by AOD and Felix Joseph, the duo pair intoxicating vocals with an unmistakable danceable beat that highlights their African roots. 
Basketmouth – "Your Body" ft. Buju
Since his debut single "Myself" featuring Oxlade and Show Dem Camp, celebrated Nigerian comedian Basketmouth has steadily created music that audiences are drawn to. In 2020, following the release of the debut single, the multitalented artist released his debut album Yabasi' which featured popular Nigerian talents including Ladipoe, Boj, The Cavemen and more. Now, Basketmouth is back with another single, this time featuring the man of the moment, Buju. On this mid tempo number produced by Duktor Sett, Buju quips over the memorable hook, "Make I touch your body, na you wey i want to kolobi/Make you no send nobody, for me shey you go soji," admiring his woman for all her curves and figure. 
DJ YANKEE – "1000 YEARS" ft Blaqbonez & Cheque
Two talented Nigerian artists, Cheque and Blaqbonez join Dj Yankee on this slow tempo track to tell their respective love interests to leave their boyfriends. The track is the perfect embodiment of toxic relationships as the trio emphasise that while they can provide for all the women need, their boyfriends cannot. "Somebody like you should not be broke all her life/cheat on your boyfriend because he is a waste of your time". The number is accompanied by story-telling visuals featuring the three going after their love interests. 
Oladapo – "Fine"
Nigerian Afrofusion singer, Oladapo has just released his debut EP 'Blind', a 5-track project which features recurring themes such as love, lust, passion, heartbreak and more. The project plays like a tribute to Oladapo's former self as the singer comes to terms with his younger, less enlightened self and his wiser, more informed self who's wary of getting hurt again. On the standout track "Fine", co-produced by Semzi and P.Priime, the singer showcases his smooth vocals and melodies as he addresses his love interest as he serenades her and admires her otherworldly beauty "Fine girl, open your eyes girls." 
Runda – "Bam Bam"
Since collaborating with international disc jockey and songwriter, DJ Neptune on "Bembe", Runda's craft and skills have only continued to grow. His star has only continued to shine bright since then as he continually edges himself closer into the limelight with a steady slew of single releases. Now, the singer makes a welcome return after his earlier two releases "Uptown Girl" and "Jowo", offering up a third single titled "Bam Bam". On this track produced by Soundz and Jay Pomping, Runda delivers a sultry set as he expresses his desires towards his love interest over a groovy mid-tempo production.
AUX Sessions – "My Cheese" ft. Majesty Lyn
Hailing from Rivers State, Charleslyn Rosebeth Charles, AKA Majesty Lyn is a singer and rapper with an unmistakable voice of gold. She combines her Afropop roots and love of R&B and hip-hop to make songs that are sure to have listeners running back for more. It was through sharing a series of rap battles and freestyles that Majesty was discovered by music heads including Don Jazzy, and other industry tastemakers.
Although very few artists are able to turn social media fame into lasting success, Majesty Lyn is looking to be one of those rare artists with her AUX Sessions and project, 'My Cheese'. Over the Man Like Maz-produced track, the singer and rapper directly address a certain nigga in her life who is unable to realise her worth and pay her the dues owed to her. With well-crafted melodies and a relatable storyline, Majesty Lyn shows that she's able to carry herself to greater heights in no time.
Kay Slice – "Breeze"
Dutch-Ghanaian Afrofusion artist, Kay Slice is back with his first official single of the year titled "Breeze", an homage to his motherland. Produced by Slice and his long-time collaborator Bora, who also provides live guitar and bass arrangements, "Breeze" is a soulful and infectious rap fusion tribute to this mother and the people in our lives that have nurtured us and helped us grow, such as our parents and family. The accompanying music video directed by Edward Pappoe speaks directly to this inspiration and captures the relationship and connection between a mother and her young son.
OG Emmy – "Remy N Chill"
Ghanaian-Nigerian Afrobeats artist, OG Emmy has just released a brand new EP titled 'Sipping Remy', a succinct collection of 5 tracks that finds the singer collaborating with a host of West African talent. On the summer-ready track "Remy N Chill', the singer directly addresses a love interest with who he wishes to spend more intimate time. "One time, oya take a pose/She say you want me so, you want my kitty," he quips on the song's infectious hook, imploring his love interest to take a chance on him in the twinkling of the hazy summer days.
Featured image credits/Instagram & Isabel Okoro
---
@nwanneamak4 couples her creative interests with her individuality and uses writing as a vessel for her expression.
---