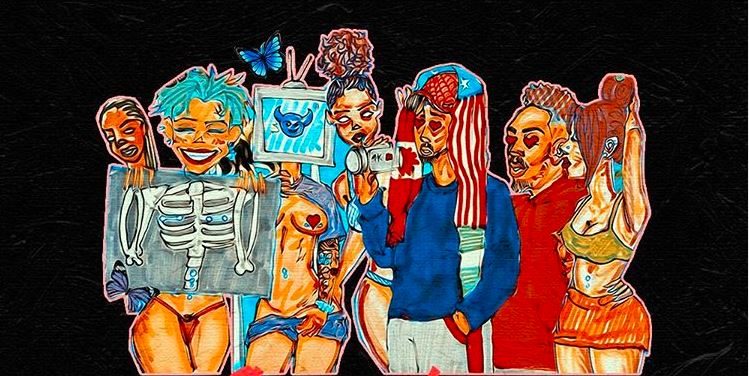 Listen to Straffitti & Buju team up on new track, "EVERYWHERE"
The pair show off great synergy
3 years ago, Straffitti's breakout project, 'Vanilla Sky' turned him into one of the most impressive rising stars in Nigerian hip-hop. His psychedelic trap sound alongside his trippy visual identity and party-rager fanbase has set him apart as one of the most exciting emerging artists in Nigeria. With his frequent stream of new releases, the fandom has never been starved of new material to get hyped about as his collaborators grew to include mainstream hip-hop acts like M.I and Ice Prince.
Today, he has now teamed up with Buju for new track, "EVERYWHERE", which shows them off as the perfect match. The show off great synergy on the new track as their voices mesh together to celebrate romantic feelings for their love interests.
Although Straffitti already established his sound as a rapper, his switch to the popular Afropop sound on "EVERYWHERE" feels like natural shift since he's already developed a reputation for experimenting with different sounds. Produced by Remy Baggins, the groovy guitar-led beat inspires Buju's intimately detailed verse and chorus about what he would do for love interest. Straffitti then picks up the pace with his follow-up verse, which draws on the melodic hook as he shows off his sonic range by switching gears from rapping to singing.
The dancefloor-ready beat and catchy melodies certainly make for a pleasant listen, but "EVERYWHERE" draws its magic from the pair's depiction of that feeling you get when you first meet someone who you know will be special to you; "Let me be the one to follow you everywhere/ This whole time/ It's you I've been watching."
Speaking about the new release, Strafitti told us:
""EVERYWHERE" is very different from anything I've released in the past, it's an exciting one for me. It was an amazing process getting this together cause I really love to explore genres and finesse it my own way. Buju is an amazing Afro artiste. We met a couple of times at random places and finally decide to heat up in the studio. He dusted the hook and left me to cremate the rest. I enjoy making timeless music like this,"
Stream "EVERYWHERE" by Straffitti and Buju below.
Featured Image Credits: Instagram/straffitti
[mc4wp_form id="26074″]
---
You are meeting Debola at a strange time in his life. He wandered into a dream and lost his way back. Tweet at him @debola_abimbolu
---