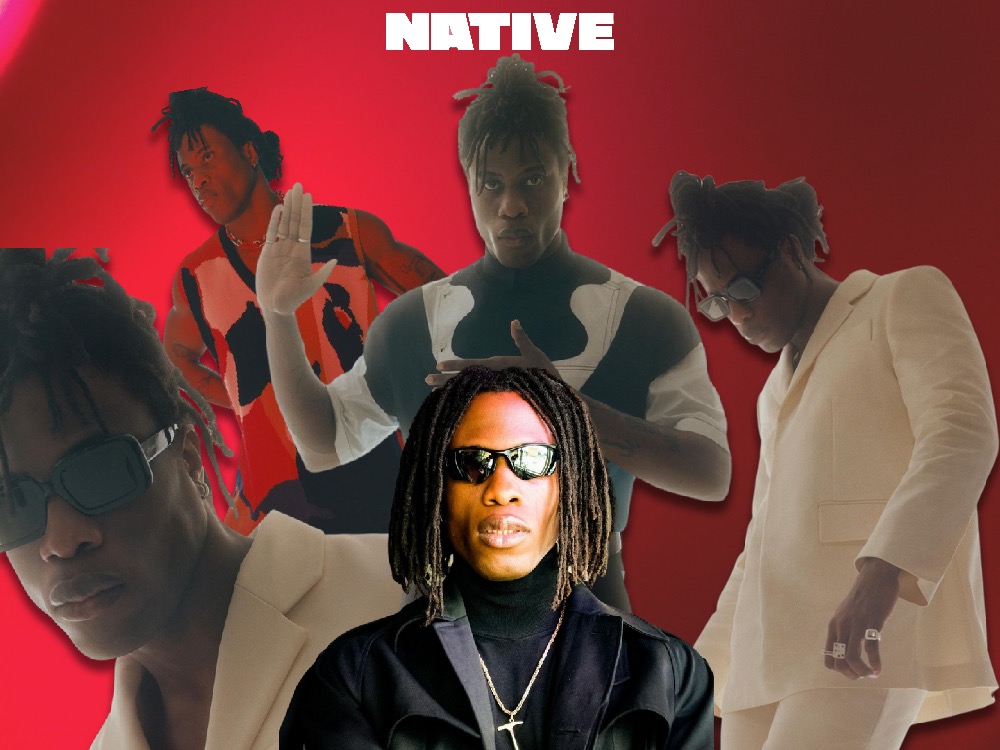 NATIVE Exclusive: Obongjayar Has Been Dreaming Of Doors
his debut album arrives tomorrow
The 1994 documentary 'Hoop Dreams' follows the lives of two Black Americans who shared dreams of becoming professional basketball players. Neither of the two men played for the NBA as they quite hoped, but their lives took interesting turns. Obongjayar saw this documentary and was inspired to advance that conversation through music. "It just got me thinking about the idea of what it means to dream for so long, and then it doesn't work out in the end," he shared with the NATIVE via a Zoom call a few weeks ago.
View this post on Instagram
The singer's debut album, 'Some Nights I Dream of Doors' arrives tomorrow. A mesmerising piece of art, it is possessed with the artistic ingenuity that has marked Obongjayar's career. "Checkpoints," he says when I ask what the doors represent. "For me doors are like a portal to somewhere else; no matter where you are, if you're going through a door you're going from one place to another place, by default. Even if you put a door in an open space, it instantly transforms that space into two spaces cos you're going from one place to another, right?"
This sense of perspective follows the album's twelve songs, which all possess profound bits of wisdom. If you know anything of Obongjayar's personal life—especially how his mother left for the UK to escape an abusive husband, leaving him in the care of his grandmother—you'd know this perspective has been cumulatively garnered over the. "These are my opinions," he says. "I've got something to say and I see the world in a very different way and I wanna share that."
Quite truly, 'Some Nights I Dream of Doors' is an experiential work of art. Its messages are simultaneously personal and communal, inviting the listener to apply them as their own lives demand. And though Obongjayar plunges through details of dissatisfaction or torment, he's usually appreciative in the end. Whether on the album opener "Try" where he sings, "we used to be so beautiful" or "Sugar", where he rides a groovy instrumental to beckon on listeners to make good of their experiences, the 29-year-old maintains a positive outlook. While album closer "Wind Sailor" is a charming ode to music, carried on wistful piano chords and Obongjayar's poetic lulls.
"There's no one I wanted to sing like," he says of his sound. "I'm not an entertainer; I'm an artist. My mission isn't to entertain or to be a dancing puppet. If my songs make you dance or feel a type of way, then great. But that's not what I'm doing it for. I'm communicating an idea or a perspective, and that's what's important to me."
"No matter where you are, if you're going through a door, you're going from one place to another place, by default."
Born Steven Umoh in the port city of Calabar, his early musical diet was largely influenced by American pop culture. However, due to the vibrant festive culture of his home state, a young Steven would revel in vivid Afropop drums and the colourful masquerades which danced to them. When he began making waves in underground British circles, Obongjayar's wide-ranging experiences made his art distinct. His music synthesised a number of artistic virtues, contorting into different shapes with obvious respect for musical history while charting an unprecedented course to the future. Simply put—Obongjayar sounds like no one else.
You hear it in his songs with slices of Afrobeats, Jazz and Soul laced by a domineering electronic influence, all carried by Obongjayar's powerful voice. "It's like creating music for a film," he tells me now, describing the thought process behind his songs. "You're not driven by things that have come before. You're trying to create an environment where if someone's listening to those ideas they're fully involved with the world you're trying to build."
In the past Obongjayar has tried to sound like the rappers he grew up hearing. "But there came a time when I asked myself 'Who am I?' This thing I'm putting on isn't my story. It isn't where I'm from or what speaks to me. So what is it that speaks to me? From that conversation, I realised: My voice. Use your voice. The voice I hear in my head when I'm angry, the voice I speak with, the voice I use when I'm emotional. Like, how do I translate that into sound?"
That question was duly considered on the 'Home' EP. Complex dubbed it "one of 2016's best debuts" and praised Obongjayar as a "young artist who seems wise beyond his years". Speaking to this, he describes "Lullaby" as a "conflict between my own world and what's going on outside. We all battle with wanting to talk about yourself and what you're going through and also realising that there are things bigger than you."
Next year's 'Bassey' was even more telling of Obongjayar's vision. The songs took on themes of social justice, history, personal conflict, and confrontations in different forms. The project was sparse, sombre and spiritual with production that leaves a tingly feel on the skin. "If my light ever should go, feed my fire don't burn my bones" he repeatedly sings in "Endless", consistently propelled by the rhythm of war-like drums. "I was testing out stuff to see who I wanted to work with," he tells me about his choice of producers on that project.
In 2020, Obongjayar inched closer to the present iteration of his sound after working with producer Barney Lister. The seven songs which make up the EP 'Which Way Is Forward' were intricately crafted around Obongjayar's voice and epic subject matter, each becoming their own universe. They won the acclaimed Ivor Novello for Best Song Musically and Lyrically with "God's Own Children." "He just understood my language," says Obongjayar about the Huddersfield-born Barney, who produced all but one song on 'Doors'. "It was pretty obvious once we started working together that we'll be in each other's lives for a long time. You know, we made my first album together which is a beautiful thing, and nobody can take that away from me or him."
View this post on Instagram
In the universe of Obongjayar, music might be the dominant force but it's seldom the only one. His videos are similarly thoughtful and bold. Milo Blake's visual of "Tinko Tinko" echoes cyber punk's eccentric qualities, featuring Obongjayar watching himself in present time through a computer screen. "Try", which was actually the first song recorded on 'Doors', also has scintillating visuals from Spencer Young, casting Obongjayar in the role of an out-worldly god, with horns and flamboyant regalia further pronouncing the aesthetic. On his part, the artist gives credit to his collaborators. "That's the beauty of it, man," he says, "you know you've done your job correctly when the [videographers] can see what you see."
Obongjayar's speaking tone is lucid, quite different from the earthy pull listeners are accustomed to hearing in most of his songs. But when our conversation shifts to the state of politics in Nigeria, he's instantly infuriated. "Rubbish," he says. "It's always been rubbish, no be today. It's a money grab for a lot of people, which sucks man. People forget this country is yours; whether you're making millions by swindling people or making people suffer, you're inadvertently fucking up your own country."
He further dissects the failures of the public educational system and the recurring distribution of power among the same class. He's constantly in the loop about what happens in Nigeria; the day after we speak, he'll be on a plane to the country. "I have a chance to go see my grandma," he says fondly. "That's the woman who raised me."
More than ever, Africans in the diaspora are returning home, adding the details of familial histories to their cosmopolitan experiences. "It's brilliant, man," says Obongjayar. "We're drumming our sound everywhere. We're part of the conversation in a big way. Show your colours and wear them proudly, that's what I say. It's great that a whole bunch of these people are researching their roots. Because it wasn't like that—if you take it back like ten years ago, it really wasn't like that. People weren't proud they were Nigerian, that shit was super coveted. But now it's like everyone's shouting about their identity and for better man, 'cos we believe in it."
Obongjayar's music has always explored the politics of identity, for better or worse. From his time in Nigeria, he credits family values for making him who he is today. When he began making music, there were unspoken expectations that he'd eventually fall into their perceptions of the archetypical Black musician. He has deflated such thoughts, further growing into his distinct expression. "My job," he says, "is to create an environment where people coming up underneath me can say 'I can do that too. I can replicate the thing in my head and it's okay'. Because I'm Nigerian I don't have to have a particular thing being placed on top of me, I can do what it is that I feel and I can share my perspective and it is valid, because I'm a human being. That's a thread that runs through my music-–anything is possible, you can do it too."
All this ties into the vision of 'Doors'. "The catch with dreaming," he tells me now, "is that the dream never ends. Once you achieve a dream there's always another door. There's always another thing. It's a continuous process. To move forward, you're constantly going back into your life, taking experiences from your life that kinda help you grow, or learning from mistakes or whatever it is to help you push forward. And that was the whole concept of the title, the idea of that opportunity. What does it mean if things don't work out the way you want them to? You have to realise that wherever you are, there's always somewhere to go. There's still other factions—whether you succeed or fail, it's fine. You can still continue."
Pre-save Obongjayar's album here.
Featured image credits/NATIVE
---