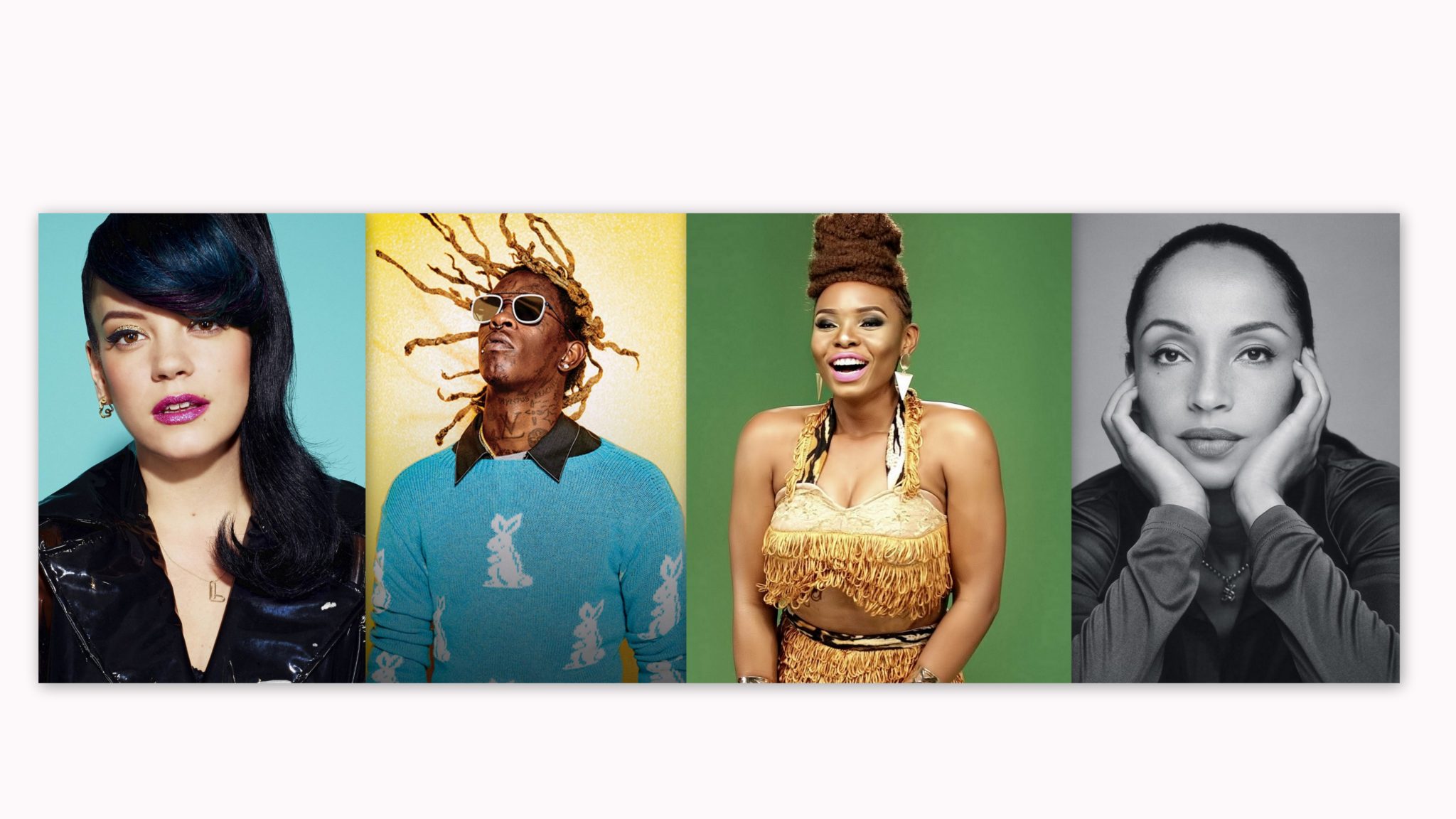 MLK (feat. Trouble & Shad Da God) – Young Thug
Every now and then, Young Thug drops something to remind everyone he's a generational talent. On an ode to Martin Luther King on MLK Day, he does just this. Shuffling between bars like "I was dead broke hustling on the steps/now I rock water like I'm Michael Phelps" and "I pray to God I die in my sleep/I pray my deaf brother don't run into the police" is what makes Young Thug, Young Thug. Playful, but introspective. Opulent, but inspirational. A national treasure.
Ada (feat. Davido) – DJ Ecool
Dropped at the top of the year, this took a couple of weeks to grow on us, but now it's in heavy rotation. Davido is 1/1 already.
Sunshine Riptude (feat. Burna Boy) – Fall Out Boy
Picture yourself as Burna Boy, an afro-fusionist and revolutionary given a chance to guest star on his favourite band's album. How else do you leave a mark in history than with an unsuspectingly empowering verse set into an energetic pop-rock framework? "Feels like I'm bulletproof, bulletproof baby", Burna Boy sings on his low reverbed verse tieing into the chorus about dancing within the Sunshine Riptide. The phrase 'Sunshine Riptide' first surfaced in the video description for "Young And Menace", another single off their latest album, M A N I A. It is described as the "gentle pull of a tide that rolls over and over again and by the sheer nature of its essence it becomes an indestructible will- ripping out sand- eroding what was before it- without a care". "Sunshine Riptide" is the ninth track on Fall Out Boy's newly released album, M A N I A. 
Faithful – Francis & The Lights
A deep cut from the phenomenal Francis Starlite album.
Heaven's Gate (feat. Lilly Allen) – Burna Boy
Burna Boy has promised this collaboration as part of the rollout leading up to his upcoming project, Outside for a minute. While there have been thematically fragmented releases like "De Ja Vu" and Gba from the series, tracks like "Streets Of Africa" and "Sekkle Down" have followed the same colourful art and subject matter. Lilly Allen's supporting cast role on this "Heaven's Gate" is subtle, but literally genius contrast to what is easily Burna Boy's hardest track till date.
Spirit (feat. Wale) – Kwesta
When the stars align for any authentically African artist like it has for Kwesta, the African dream unfolds to be an 'Ojuelegba to the world' story. Even featuring Nigerian-American Wale, on "Spirit", his uplifting single from last year, doesn't deter his authenticity and dedication to his roots. At a time when the outward push for African music has tended artists towards more global sounds and concepts, the rapper has doubled down on solidifying his electronica-tinged lo-fi hip-hop delivered in his native Kwaito tongue.
Baby – Olu
On "Baby" Olu's brand of soul relies on dents of rock, ironically set on mellow-ish drums and ambience synths. Her most effective instrument, however, is her voice, a divine-like presence arched by her internal musings. She describes this process as an artistic process of finding you from I.
King Of Sorrow – Sade
"I Am Crying Everyone's Tears/ I Have Already Paid For All My Future Sins", Sade sings on "King of Sorrow", the second single off the group's millennium album, Lover's Rock. In this vintage interview, lead singer, Sade Adu aptly describes the track as a moment: "Where you feel like everything is on your shoulders". The legendary singer turns 59 this year, what better way to revisit her influence than this emblematic cut of her group's most indemnifying soulful quality.
Issa Banger (feat. Mr Real and Slimcase) – D'Banj
"Issa Banger" is Bangalee's first official release of the year. And unsurprisingly—though rather peculiar—the track features "Legbegbe" wave of the moment, Mr Real, and another emerging collaborator Slimcase. Mr Real and Slimcase are right at home on the EDM-leaning instrumentation. "Issa Banger" is composed loosely and precariously like much of D'Banj's punchiest releases since 2016. Only a few artists have a diverse enough mindset to dip into the trenches of obscure street music and still manage to come out untainted, and D'banj is one of such artists; if "it's not a lie", then Issa banger.
Go Down – Yemi Alade
After an active run as Mama Africa that culminated Yemi Alade's two-year-long Afrocentric embellishment, the singer is returning to her R&B/Pop roots. "Go Down" comes off her third studio album Black Magic, featuring a sultrier Yemi Alade putting her vocals to work.
---
The Bumplist is The NATIVE's official weekly playlist – what we love this week, in no particular order
---