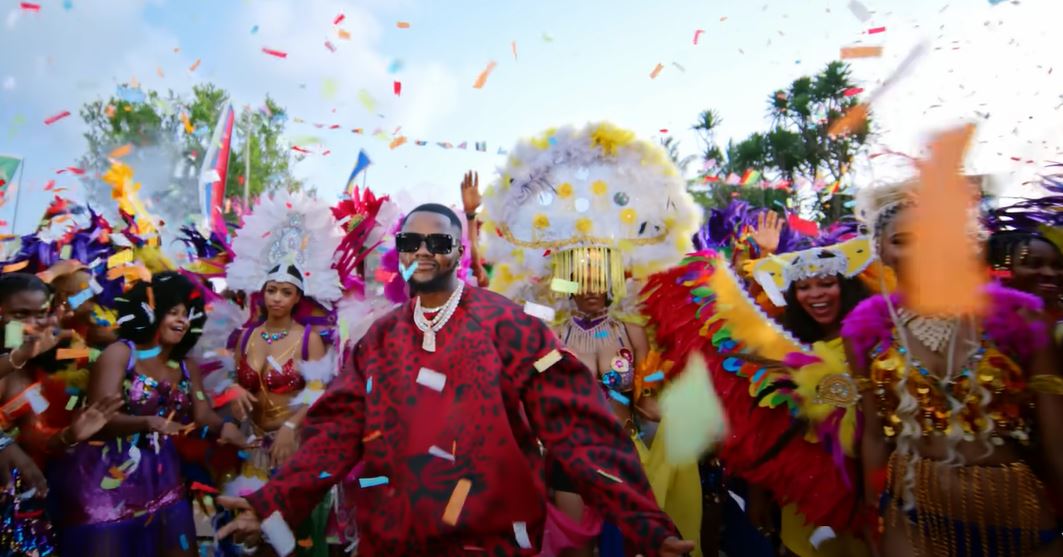 Kizz Daniel shares colourful & celebratory video for Tekno-assisted smash "Buga"
A carnival affair directed by TG Omori
Kizz Daniel is an undeniable OG in the music industry, his craft does not age rather it evolves and reinvents itself. His ability to spin memorable quips on the relatable aspects of love and life formed the thematic basis of his critically acclaimed and commercially impactfully EP, Barnabas. This year, Kizz Daniel has been ruling the Nigerian airwaves, emerging as the best performing act of the TurnTable Charts in the first Quarter. Keeping the momentum going, Kizz Daniel tapped Tekno for the instant hit single, "Buga (LoLoLo)."
"BUGA" OFFICIAL VIDEO OUT NOW ‼️🦚 #BUGA
__
Dir: @boy_director 🎥
__
Styled: @kenepisode1 / @t.dosumu / @snr_moj
__
Special thanks @mrfunny1_
__
🇳🇬🇿🇦🇸🇳🇸🇹🇷🇴🇰🇳🇸🇸🇹🇼🇹🇿🇹🇬🇹🇷🇦🇪🇻🇳🇸🇭🇸🇸🇳🇴🇲🇺🇲🇹🇲🇷🇰🇪🇰🇼🇹🇫🇪🇹🇫🇰🇫🇯🇨🇺🇨🇿🇪🇪🇨🇫🇨🇱🇨🇽🇨🇮🇨🇦🇨🇬🇧🇶🇧🇼🇻🇬🇧🇾🇧🇷🇧🇾🇦🇩🇦🇬
__https://t.co/ODSqgbBJYL pic.twitter.com/etUfBxv0yz

— VADO D'GREAT 🎙 (@KizzDaniel) June 22, 2022
In usual Kizz Daniel form, the single has been incredibly impactful, even becoming the most Shazam'd song in the world not too long after release. The sunny and upbeat anthem is now an ode to everyone seeking to have fun, with a viral dance accompanying its popularity. In no time, it's also been dominating the TurnTable Top 50, debuting and remaining at the top of the chart for six consecutive weeks. Produced by Reward Beatz, the song is laced with a buoyant feel over a percussive backdrop, a perfect setting for Kizz Daniel's preppy melodies.
A few days back, TG Omori hinted at the a potential set of visuals to the fan favourite  single, and it only seemed right that the biggest song in Nigeria be deserving of an exciting video by Nigeria's most sought after director at the moment. Hitting 1 million views on YouTube in less than 24 hours since release, the runaway hit has left its fans gawking in excitement as Kizz Daniel finally release the enchanting visuals for the Tekno-assisted single. Characterised by a splash of colours, the video for "Buga" is as vibrant as the song, and it will only improve the song's impression on Nigerians.
From the first shot, there's a purposeful portrayal of Nigerian culture totems, as well as nods to the Caribbean and African diaspora, as ladies dance in traditional attire while old men yell in shock over the carnival parade, which already catalyses the high-spirited environment. The color graded shots bring a 4K experience that has been stitched together for the purpose of internet immortality, featuring the award-winning comic Sabinus. TG Omori balances the exhilarating shots between Kizz Daniel and Tekno while using the luscious vixens and excited crowd to go in sync with the lyrics. The dynamic control of the duo as their verses build up on each other is enticing as they invite the audience to have fun with them.
Watch the video for "Buga" here.