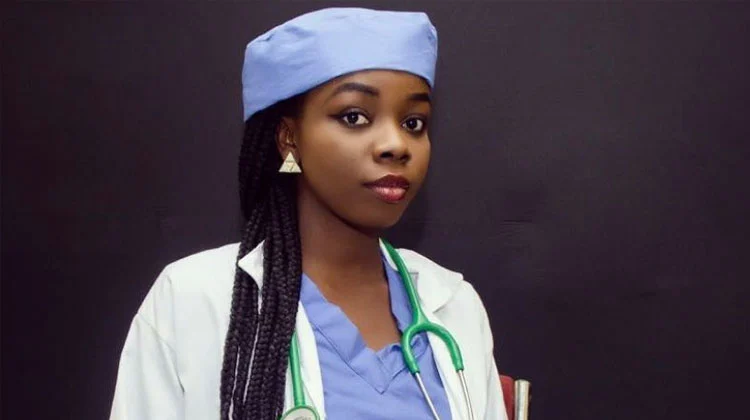 Justice for Chinelo: Woman killed during the Abuja-Kaduna terrorist attack
#JusticeForChinelo
Two nights ago, terrorists attacked a Kaduna-bound train, leaving people dead and many kidnapped. According to reports the train had left Abuja around 6pm, making its way through Katari and Rijana communities when an Improvised Explosive Device (IED) detonated along the railway, halting the train. Passengers who tried to escape through doors were shot at, leading to deaths, some instantly and others, over an extended period of time.
I'm in the train . I have been shot please pray for me.

— Chinelo (@nelo_x) March 28, 2022
At 9.43pm, a Twitter user (@nelo_x) tweeted: "I'm in the train. I have been shot. Please pray for me." Several vile comments were made on that post by government apologists, who discarded her update on the assumption she was chasing clout. Even as more information was revealed over time, with a number of other Twitter users saying they knew Chinelo, those comments still stunned with their cruel disregard for human life, all of them exposing the horrifying fact that Nigeria is deeply torn along moral, ethnic and political divisions, which will surely escalate in the months leading up to the general elections next year.
Chinelo's death was confirmed by gruesome pictures of her on Twitter. She was one of us who, like Bamise, Pelumi, Jimoh, Oke and several other young Nigerians, have been avoidably killed by the insecurity allowed by the present administration. Rather than remember her at that moment, photos of her in her medical attire were widely circulated. Many who knew her confirmed she graduated sometime around 2015 from the University of Port Harcourt, an outstanding student of Medicine. She'd become a specialist in dental surgery, working at St Gerald's hospital in Kaduna until her death. Chinelo once received an award for her "beauty and brains", and according to a Steph was about to leave Nigeria. She wrote:
"Dr Chinelo was making an honest living, she was working at St Gerald's hospital in Kaduna, she wanted more for herself and processed her papers to leave this hell-hole. She resigned last month to leave the country this Friday then this happened. Nigeria why???"
Please don't circulate that picture of Chinelo on the train. Let us honor her memory with these. pic.twitter.com/tLmNs29grg

— Cedric (@UncleCedi) March 29, 2022
A close friend of Chinelo from their time as undergraduates gave a comment to the NATIVE. She had her secondary education in Queens College, Lagos and while at UNIPORT stayed resident at Pritaso Block B. "That's where I got to know her," he said, adding that "she was very serious with her academics [and] would read all night. She didn't have time to play around. But she was a nice person."
Further information revealed that Chinelo was from Onitsha, Anambra state. The Megafus are also popular in the community, where this news was received with great shock. In a statement signed by the National Publicity Secretary of the Nigerian Medical Association Dr Aniekeme Uwah JP, the Association bemoaned the "worsening insecurity in the country which has made all of us and Nigerians as a whole vulnerable to violent attacks by hoodlums, bandits, kidnappers and terrorists who are currently having a field day causing us deep sorrows and severe pains. [The Association also recommended] that the Federal Government gives a strong consideration to the establishment of state police to further complement the efforts of the Nigerian Police Force."
There have also been repeated calls for blood donations at the 44 Nigerian Army Reference Hospital, which has been positively responded to so far. At the NATIVE, we say a word of prayer for victims and their families, for hope and strength to live through these times.
View this post on Instagram
Featured image credits/Chinelo