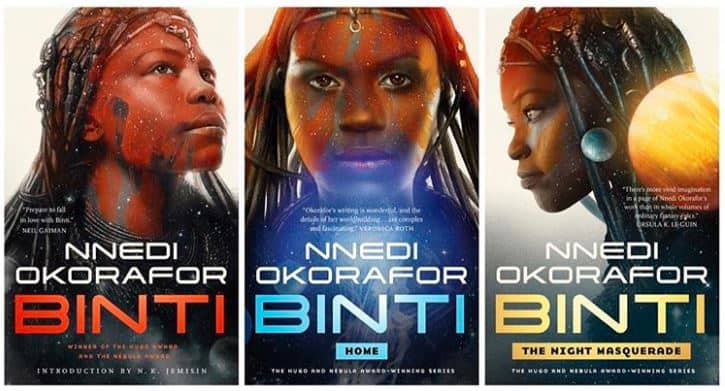 Nnedi Okorafor's novella, "Binti" is being adapted into Hulu Tv Series
Literal Black Girl Magic
Nnedi Okorafor has been booked and busy, and it looks like she's getting even deeper in her bag these days. Last year, her novel 'Who fears Death?' was being developed into an HBO series in collaboration with George RR Martin, all while writing the script for Amazon Films, in collaboration with Wanuri Kahiu ('Rafiki'). 
Now, her critically acclaimed novella, "Biniti" is being adapted into a Hulu TV series, which she will also write the script for, alongside Stacy Osei-Kuffour (writer on 'Watchmen', 'The Morning Show'). Nnedi Okorafor shared the news on her twitter to celebrate with  fans.
Finally, I can be public about it!

We are adapting Binti into a TV series at @hulu. I'm co-writing the pilot with @StacyAmma (HBO's Watchmen). #Africanfuturism #Binti 🌍🚀 https://t.co/B4Bb3AGvwD

— Nnedi Okorafor, PhD (@Nnedi) January 14, 2020
"Biniti" is set in a technologically advanced future and tells the story of a bright and rebellious woman who rejects her family's wishes to pursue her personal ambitions in the starry skies. Seeing as the Hulu hasn't set a release date or cast for the TV show yet, there should be plenty of time to read the sci-fi trilogy if you haven't already. Nnedi's Afrofuturist approach to storytelling  is a testament to the potential in telling stories that are inspired by our African culture.
Featured Image Credits: Instagram/nnediokorafor
[mc4wp_form id="26074″]
---
You are meeting Debola at a strange time in his life. He wandered into a dream and lost his way back. Tweet at him @debola_abimbolu
---