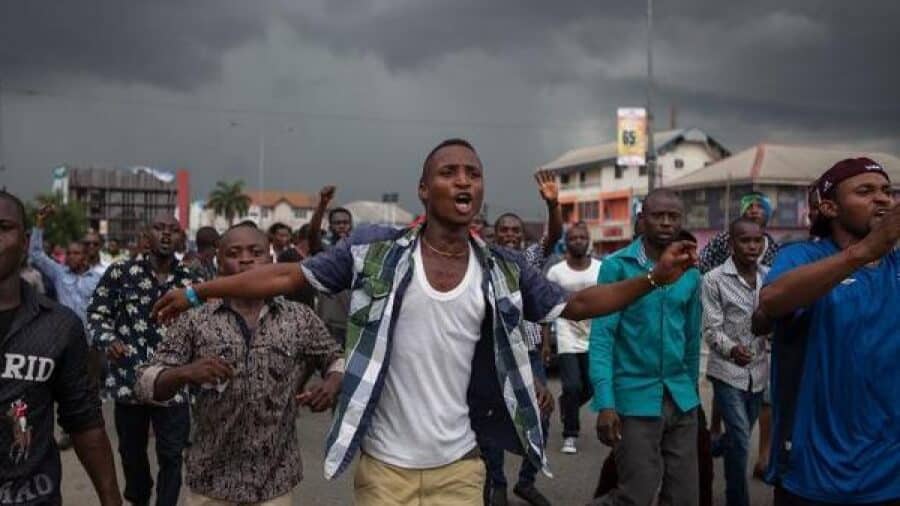 We spoke to residents about the unrest in Oyigbo, Rivers State
There is currently a massacre happening in Rivers State
Two minutes before our scheduled phone conversation, Princess, 21 was firmly reminded of the horrors of her present reality, when gunshots rang deafeningly through the afternoon air. The loud bangs sent her and her family panicking and frantically seeking out shelter even inside their own home. Her hometown, Oyigbo was bleeding, but it seemed to her as though no one was paying any attention to the atrocities committed by Nigerian armed forces in the name of carrying out the government's mandate.
This past month, coming across footage or images of dead bodies on social media has become increasingly common. Given that local media houses are banned from covering the #EndSARS protests in a way that would embarrass the government, social media has become the prime hub for disseminating information about the fight for a better Nigeria across a range of states. For many of us, social media is our only way of discovering the evils that the government consistently dish out to its citizens, however, for Princess, coming face-to-face with death has become a common occurrence in her hometown.
Oyigbo in Rivers State has been under a 24hrs curfew for nine days now. Soldiers have been going from house to house harassing and killing people. Our families are cut off from accessing medicine, food, water and all other life-saving necessities.

— Stëpheñ (@dspken) November 1, 2020
For the past week, Oyigbo, a satellite town in Rivers State has been under a 24-hour curfew by the incumbent state governor Wike who promptly put it in place following the death of three police officers in the state and the destruction of state property including a number of police stations. The curfew was announced indefinitely on the 21st of October, a day after the brutal killing of young Nigerians who waved their flags and staged a sit-in at the Lekki toll gate, Mushin, Alausa, and other parts of Lagos. Princess tells me, "Ever since the Lekki massacre, the governor imposed a curfew in parts of Rivers state and no one is allowed to go outside even for essential travel and services". While she's aware that the two occurrences happened independently from each other, she believes that they certainly do inform each other as in each time, military forces were discharged to step in and ensure peace and stability, however, they responded with more state-sanctioned violence on those who they have been charged to protect.
According to reports, the growing unrest in the area is said to have been caused by the Independent People of Biafra (IPOB) who allegedly hijacked the ongoing #EndSARS protests in order to carry out destruction and damage. But Princess was not too convinced that things happened as national media is currently reporting it. To her, the alleged attacks from the IPOB was said to have been carried out in the night with no official investigation conducted to find out the real culprits. The IPOB seemed to have been unfairly proscribed involvement in these crimes by the governor and judging by the deteriorating social contract between the government and the people, it's not hard to see why she has trust issues. 
"
They just claimed the IPOB did it but it's like how did you know?  The same thing happened in Lagos and a couple of other states but we saw this evidence of these 'hoodlums' being sponsored by the state so what is to say that this is not the case currently?"
The government's response to the unrest caused was to deploy armed forces to ensure compliance with the 24-hour curfew however rather than carry out this task in good faith to the residents of the town, there have been reports that the army has been going door to door and harassing and killing people. Those who dare to venture outside their homes are either killed, flogged, harassed, or attacked by armed officers in the area despite residents complaints about the lack of food, water, and other amenities. Princess tells me that she and her family are just managing the resources that they have stored at home, each of them too afraid to take the risk and step out of their front door, in case they run into an army officer on a bad day.
What is happening in Oyigbo/Obigbo is political, #GovWikeTheMurderer is using #IPOB as cover up to commit his already planned genocide against those he sees as Igbos . Nigeria Military is picking young Igbo boys house to house and executing them.#Obigbomassacre #oyigboMassacre pic.twitter.com/ZBJjxhuv0w

— Emeka Gift (@EmekaGift) November 2, 2020
"My family and I are just here and things are very expensive at the moment," Princess shares. Given that many residents of Oyigbo are forced to spend the past few weeks indoors, those who venture out for food soon find that the prices have been staked considerably high since the 24-hour curfew was put in place. And that's not all, Princess says there has not been a glimpse of electricity in the area since the curfew began and many are forced to stay indoors disconnected and cut off from the news cycle.  Princess shares her disapproval for the government's methods saying, "It does not make sense to impose a 24-hour curfew on people without prior notice". Many residents of Oyigbo are visibly angry and many are fighting for their lives, choosing either to risk being caught on the streets when in search of urgent amenities by soldiers or opting to sustain starvation to preserve their lives.
The violence from armed forces in the area is also meted to residents based on their gender. Princess tells me that women are not shot or attacked on the spot by the military officers but face a different kind of harassment from them. "When they see women, they don't shoot at them but they make them sit on the bare floor and they are harassed and humiliated by the soldiers," she tells me in horror. This is a common occurrence that seems to be getting more attention in recent times, as over the weekend viral footage of a woman being flogged by military officers for dressing indecently made the rounds through social media. We cannot turn a blind eye to the ways in which violence and oppression is used as a tool to humble women who dare to live unconventionally from the country's puritanical views.
For now, Princess' only wish is that more coverage on the atrocious killings taking place in Oyigbo will be televised for Nigerians to see both home and abroad. The government backlash from the #EndSARS protests have been felt all across the country, from banning the youth from engaging in peaceful demonstrations to threatening to enforce the social media bill, we are feeling the wrath of demanding better from our elected officials who unfortunately being told to do their job as a sign of disrespect. But Princess's experience and that of many residents in Oyigbo show that the ongoing fight to end bad governance and state-sanctioned violence in the armed forces is one that must include every Nigerian and not just those who live in affluent parts of the country alone. None of us are free until all of us are free, and that won't happen until members of the armed forces are not weaponised and controlled by those in power to enact their heinous deeds.
More attention needs to be paid to communities on the margins which are endlessly torn apart by the presence of heavy security forces in the area starting with Oyigbo where Nigerians are currently being killed and attacked in cold blood. And with the growing tensions caused by those who wish to spur tribalistic propaganda, we must ensure that no one is killed for the tribe they originate from.
Featured image credits/TodayFM
---