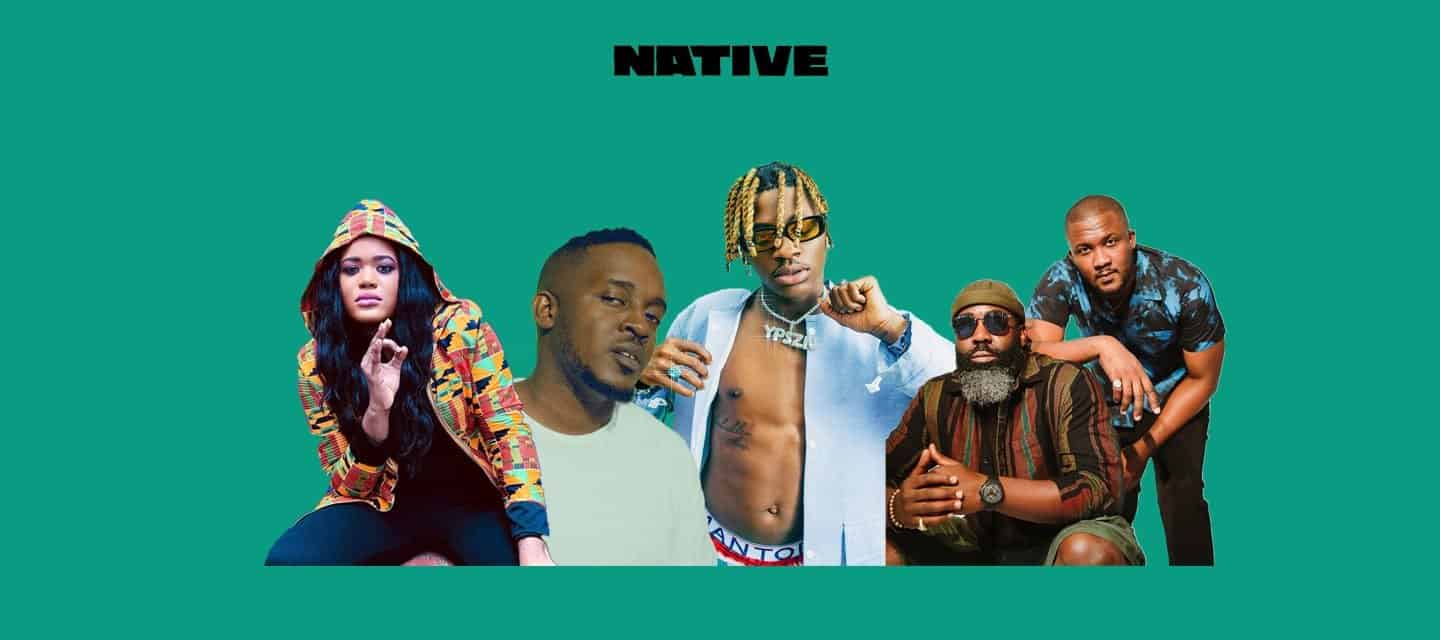 The continued presence of Hennessy in Nigeria's hip-hop scene
a decade of continued relevance
In 2012, the third edition of Hennessy Nigeria's 'Hennessy Artistry Cypher' was headlined by Naeto C and M.I Abaga. The resulting song, "Bartender," is one of the few on-wax collaborations between two of the most essential names in Nigeria's rap music history. It's also arguably the best and most memorable in the series of songs created by headlining acts of the cognac brand's music-centric venture. A glossy pop-rap cut driven by Tee-Y Mix's bubbly production, both rappers revel in the luxurious perks of living the high life, with their preference for Henny coming across as worthy signifiers, even though it was obvious brand-extolling.
Over its two preceding editions, the headline song was graced by Rap in a more auxiliary way, from M.I and Ice Prince trading bars over the Kas-produced, electronic Juju cut "Like A Bottle," to eLDee delivering slick raps on the clubby and kitschy "Toast to the Good Life." Where those installments featured non-rap headliners – Sir Shina Peters, Bez and Nneka on the former, and Banky W and Tiwa Savage on the latter – Naeto and M.I's headlining tenure was the first (and only, so far) all-rap affair. It's a consequential detail to point out, largely because of the time in which it took place.
Depending on who you ask, the golden period of Rap music in Nigeria is a debatable point. One of the periods in contention, though, is the stretch between the late 2000s and early 2010s. In 2012, specifically, M.I and Naeto were at the top of the totem, leading a burgeoning but albeit, commercially vibrant English rap scene. At the same time, the multiplying effect of Dagrin's supernova run and his untimely demise was beginning to take hold, with lyricists who rapped in their indigenous tongue proudly emerging from the fringes of the country. It was an abundant time for Rap music in these parts, and not only did that year's Hennessy Artistry Cypher reflect this, but it also marked a practical starting point for Hennessy's consistent presence in Nigerian Hip-Hop.
For fans of Rap music in Nigeria and its lyricists, there's one thing that's a certainty going into every new year: Hennessy cyphers. First debuting back in 2015, the Hennessy Cyphers have become the most prominent cypher platform in Nigeria, the go-to place for audiences to see and hear a range of rappers, both popular and emerging, engage in one of the most basic forms of exhibition associated with hip-hop. In the company of their peers, rappers in a cypher attack a single beat, taking turns with freestyle or written bars or a mix of both, a no-frills, sometimes low stakes, avenue to (partially) highlight the talent pool of Rap music in Nigeria.
The launch of the cypher was preceded by the introduction of VS Class, a freestyle battle space for yet-to-be-popular rappers to battle each other for a chance to win and make launch their careers. Inclusive of the first Hennessy VS Class competition in 2014 was a freestyle series by more prominent rappers, who also doubled as judges. Aired live on Lagos-based radio station, 99.9 Beat FM, these first batch of freestyles from Reminisce, Show Dem Camp, Illbliss, and more, set the stage for the Hennessy cyphers, an annual ritual that's now in its tenth consecutive year.
Since its inception, the number of Hennessy cyphers in Nigeria has varied from year to year, but it's never been less than three in one annual installment, accounting for at least twelve of the country's rap artists at each time. While it's difficult to determine the exact number of Nigerian rap artists who've graced the famed platform, I can safely say the number ranges somewhere beyond sixty. With that nebulous but certain ballpark figure, it's definite to claim that Hennessy cyphers has hosted more rappers than any other freestyle platform of its specific kind in the country.
With each year the cyphers take place, and as these speculative figures increase, Hennessy's dedication to Nigerian Hip-Hop is reconfirmed, however, this has not always been matched by a consistent streak of stellar execution. The cyphers' 10-year run has been graced by the good, the middling and even the wearying, leading to a mixed bag of reception from viewers. At the beginning of 2019, M.I—in an ironic twist—led a charge against the lukewarm results of the Hennessy Cyphers in the immediate past two years, pitching his tent with a competing cognac brand. That cypher, which also featured A-Q, Loose Kaynon and Blaqbonez, immediately went viral, sparking a deluge of hot takes that leaned into the derisive energy.
Beyond the hot takes, there were those who hoped the situation would spark a renaissance on the path of the Hennessy Cyphers. In revisiting the cyphers from 2017 and 2018 for this story, the sentiments were understandable. Compared to the fiery, competitive verve of the first two installments, things had clearly gotten wry. A year later, those expecting a corrective course in 2019 were disappointed. Complaints ranged from near-atrocious beat selection to poor video editing and generally uninspiring rapping. Not too long after, M.I and associates would return for another round of taunts, which would contribute to one of the biggest rap beefs in Nigerian Hip-Hop history. Pulling off a much-needed feat of perseverance, Hennessy remained steadfast in its commitment to Nigeria's Hip-Hop scene.
To an extent, the uninspired spell of Hennessy Cyphers mirrored Rap music in Nigeria, a space that had been effectively taken over by indigenous Rap proponents. In the latter part of the last decade, the commercial space for English-speaking rap music shrunk significantly, a situation unwittingly aided by divisiveness. At that time, organisers of the cyphers tried—but not hard enough, in my opinion—and failed to meaningfully integrate rappers with a preference for spitting in their respective mother tongues. 
It became clear that cyphers weren't fully representing rap music in Nigeria, from the indigenous rap issues to the severely limited number of women who've graced the platform. These are complaints that deserve urgent and wholesome treatments, and the continued presence of the cyphers projects hope that they will get sorted, especially since cyphers such as Hennessy have been back to a green patch over the last two editions.
In 2020, following a highly publicised reconciliation between M.I and Hennessy's long term Nigerian rap ambassador, Vector, the cyphers returned with its best curation since 2016. Twelve rap artists across three cyphers took to three knocking, Chopstix-produced beats, cumulatively delivering an entertaining and engaging cypher experience. For the first time in years, the freewheeling essence of freestyle cyphers was at the fore, from Falz's joyful raps to Vader the Wildcard's confrontational energy, to Phlow's infectious confidence, to Vector's eye-widening punchlines, and more highlights. It was the sort of long-awaited return to exciting execution that signalled a better path going forward.
Last month, the latest edition of the Hennessy cyphers were unveiled, building on last year's premise and utilising the same format of twelve rappers across three cyphers. The first cypher, featuring Alpha Ojini's topical verve, PsychoYP's flashy lyricism, Barrylane's proto-Kendrick delivery, and Legendary Styles' impish puns over a creeping drill beat, is the most forward-facing of the trio. In comparison to the other two, the second featuring VS Class alumni and the third featuring the "headline" cypher acts rapping over beats of similar tenor, it shows rappers with different and distinct rap inclinations, a hallmark of where Rap music in Nigeria is currently at and could be.
While still some distance away from the commercial viability enjoyed by Pop music, Rap music, especially for those paying attention, is currently in a place of experimentation and expansion. There's a lot of musical and cadence variety, and we're witnessing the steady influx of women developing with an unapologetic mindset. The latter two cyphers hew closer to the "real Hip-Hop" leanings that's been part of the Hennessy cyphers over the years, and they're exciting enough to re-emphasise the depth of Nigeria's English rap scene, even though it's not the most popular form of music in the country.
Perhaps that's a statement in itself: Hennessy has been along for Nigerian Hip-Hop's heavily bumpy ride for a decade, and the cognac brand isn't looking to stop anytime soon. 
---
@dennisadepeter is a staff writer at the NATIVE.
---