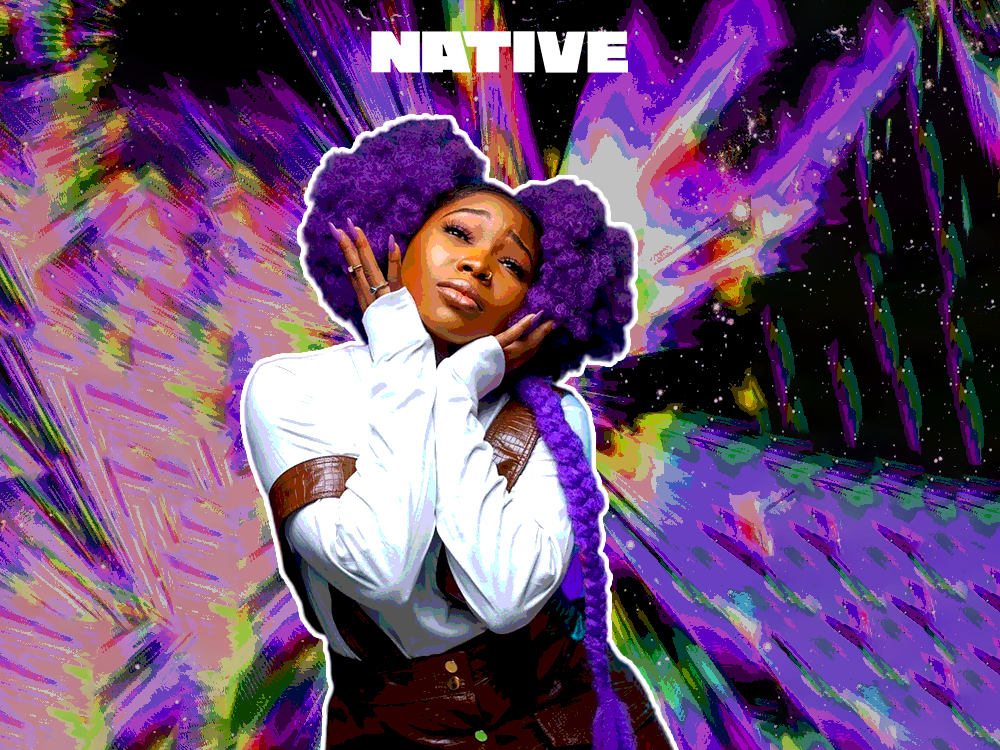 A 1-Listen Review Of Guchi's EP 'Purple Diary'
replete with her hit-making abilities and clever songwriting
Following the success of her 2019 single "Addicted," Nigerian singer Guchi has crafted a slew of Afropop tracks that have captured the attention of music lovers in Nigeria and across the African continent. She announced herself with her 2020 debut EP aptly titled 'I Am Guchi' and solidified her place in the music conversations with 2021's "Jennifer," "Benzema" and the Zlatan-assisted "Scatter My Head." Those tracks continued Guchi's musical trajectory of romance-based tunes marinating in great beats and earned her award nominations.
In her colourful music videos, which always carry an aura of sensuality, Guchi ensures to keep viewers' attention on her with her dance routines and dramatics. She started 2022 with the heartbreak ballad "Shattered" and the Yemi Alade-featuring "I Swear," two songs that have led up to her new sophomore EP 'Purple Diary.' "Purple balances the stimulation of red and the calm of blue," Guchi wrote about the project, "same way my new EP (PURPLE DIARY) will calm your nerves and be soothing to your ears." Well, it is time for me to listen and give my thoughts.
View this post on Instagram
"NOT JUST OK"
This has a nice bounce. Guchi's vocals are soothing on this mid-tempo tune, which is dedicated to a lover who she is enamoured with. "In my head/All I see is my world through your eyes," she sings. This one is a good start.
"TAKEN OVER" (FT. LADIPOE)
I like how the beat starts on this before Duktor Sett's producer tag comes in. Here, Guchi gives a mild protest about falling in love when she sings, "This boy's taking over/My body and soul/And I don't want you/Taking over my body and soul." I like the synergy of LADIPOE and Guchi in his verse with the "You know" that she coos at the end of his lines.
"CONTROL"
Immediately this one starts, I know it's a bop. Chech's upbeat production is alive with the guitar chords, horns and handclaps. "Na this kind feeling make me losing control/And I fit die if you no look my matter," Guchi sings. Honestly, Chech's beat is the cheat code. As longtime collaborators, Guchi and producer Chech understand the assignment.
"I SWEAR" (FT. YEMI ALADE)
Before this project, I hadn't listened to this track so it will be fresh for me. Again, Chech's beats for Guchi just demand that you dance before she even sings a note. Guchi and Yemi Alade are butter and honey on this as their verses flow into each other. Both of them declare affection for their beaus. "You cool me down I swear/You calm me down as well/You make me wan confess/To say baby I love you," Guchi sings.
"SHATTERED"
Here, Guchi laments about the mistreatment she suffers at the hands of a supposed lover. The sadness in her voice comes through when she sings, "Am afraid baby am afraid/What you do to me am afraid/Don't leave me/Don't let me waste/If you leave I'll go insane." The grief is a contrast from Chech's lively production; this one invites you to bop your head while regretting meeting the wrong one.
"INVASION"
Caribbean feels in the opening seconds of this one. And then the bass kicks in followed by Guchi's vocals as she sings, "Make we do the wrong things inna good way." There are sprinkles of horn blasts here and there. A playful yet sensual cut. Credit to Soundboy for the exceptional production.
FINAL THOUGHTS
Guchi's 'Purple Diary,' as she claimed, really does soothe the ears and calms the nerves. The singer sticks to what has worked for her: romantic tunes with infectious beats. On 'Purple Diary,' it works too. The producers—Shyboy, Chech, Duktor Sett and Soundboy—exhibit impressive chemistry with Guchi; the beats are layered and allow Guchi to wonderfully weave her vocals through the labyrinth of sounds. 'Purple Diary' is generally an impressive showing; Guchi continues to stake her place in the world of Afropop with her hit-making abilities and clever songwriting. She's clearly a talent to give your attention—if you already aren't.
Stream 'Purple Diary' here.
---