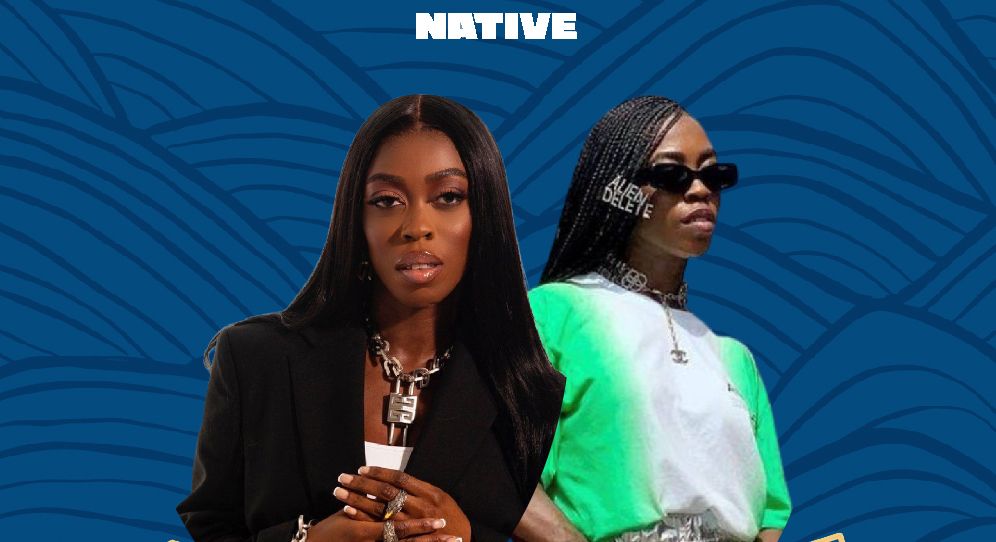 Day In The Life: Grace Ladoja, Founder Homecoming Festival
12 hours with Grace ahead of the Homecoming festival
For the past few years, Homecoming has played a key role in the cultural exchange between Nigeria and the rest of the world. Since the first iteration in 2018 where we witnessed the breakout of the then 19-year superstar, Rema, the music and arts festival has grown into one of the most important platforms for the next generation of Afropop superstars. 
Founded by Grace Ladoja MBE, who is also the co-founder of Metallic inc. — a global culture studio, each venture operates as an intersection between music, marketing and culture with the main aim to support youth culture in any way they can. Shuffling between running these entities, motherhood, building a family, and managing the careers of artists such as Skepta and Sarz, Grace is setting the path ahead of her straight. 
Last month, Homecoming returned to Lagos after a fallow few years due to COVID, and I had the great honour of spending the full day with her during the Homecoming weekend. We spent the Saturday of the festival weekend together, which was the first day of the pop-up at Alara, Lagos. With a very early start at 8am, I gained a closer look at how she juggles her different responsibilities throughout her 24 hours and I must say, she certainly is a dynamic force.
View this post on Instagram
I met a relaxed Grace Ladoja at the Arise TV studios, seated with crossed legs and a cup of tea in her hand. She was preparing for an interview scheduled for 8:00 AM, but got off to a slightly delayed start. When on-air, she spoke eloquently on 'The Morning Show' for about 30 minutes, shedding light on the 4-day festival, her career as a talent manager, being a mum as well as building her young family.
After the interview had wrapped up, we headed out to her home so she could prepare for the rest of her very busy day. In the 15-minute journey from the studio, Grace Ladoja mainly only spoke about how excited she was to see her son, Zacai, who was turning 1 that weekend. The shift from Boss to Mum was palpable, as she spoke with a firm, concise tone whilst talking business, but became a pile of mush with regards to her son. 
We arrived at Grace's Ikoyi residence at about 9:23AM, where she stopped by to get changed out of her TV clothes to a more practical choice for the hustle and bustle of the day. While in the living room waiting for Grace to come back, I could hear her playing with her son before she stepped back out wearing a black tee with "I SUPPORT YOUNG BLACK BUSINESSES" written boldly across the torso – an exclusive Off White x Homecoming collaboration). You could tell she was going for a practical look, but she still managed to look glamorous, pairing the tee with black Prada shorts and black sneakers from Drake's Nocta x Nike collection.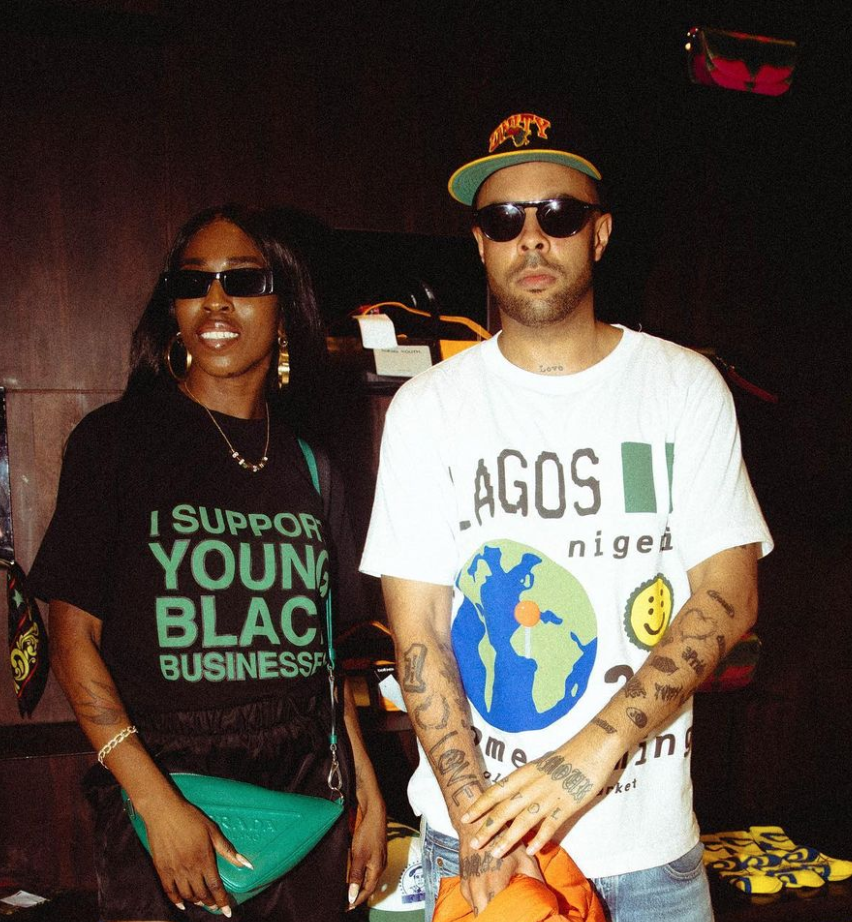 At about 9:51AM, we headed over to Alara Lagos, a luxury concept store, located in the heart of Victoria Island, Lagos, Nigeria. The whole place was set up with Homecoming brand representation all over the place, from stickers to merchandise to exclusive collaborations designs with streetwear brands such as Patta, Daily paper, Ashluxe, Motherlan and more. 
Before the day kicked off, Grace showed Zacai around, going from stall to stall explaining to the 1-year-old what each brand represents. As she took commemorative pictures and videos with him at the Nike x NOCTA stall, she spoke to him about her achievements and how far she has come, asking him "Are you proud of mummy? You should be proud of mummy". 
She spent a bit of time at the pop-up location before eager customers began to make their way, checking in with the team to ensure nothing was out of place. Within the hour since we arrived at Alara, Grace mentioned that she needed to get her breakfast sorted out twice, but never got round to it due to the sheer amount of work she had to do.  
After making sure everything was in check, we set off to a shoot location elsewhere in Victoria Island for the i-D editorial photoshoot which features images of all the collaborative pieces between Homecoming and the brands in partnership with them.  At the shoot, Grace and I have a little chat about what a typical day in her life is like. 
When she finally found the time to sit for breakfast and get her hair done at the same time, she says candidly "I know this may sound clichė but every day in my life is different from the last." Being in the entertainment and popular culture business, it's hard to predict how a day unfolds, because there's usually so much to keep abreast of and stay on top of. Being a music business mogul and managing parenthood is no easy feat for anyone, but what makes it worthwhile for Grace Ladoja, is the passion she has for everything she does. She sees her job as a part of her life and her life as a part of her job, and this allows her to manage both heavy duties side by side. 
"When you have a baby, everything in your life becomes number 2 and my son is my number 1 priority." 
View this post on Instagram
One other thing Grace Ladoja sees as a job is making the world a better place for women. She is very vocal about her need to support other women and ensure that they also can stand in their power, and she buttressed this during our chat saying:  
"I have a job and it's to amplify and push women that are doing great things, because sometimes the confidence you can give a woman is just them seeing you as an example."
You don't have to spend the whole day with Grace Ladoja to place that she is a strong and confident woman who stands in her power, and considering the monuments she has built across the pond, any woman, regardless of their background would be inspired.  After chatting for a bit, we went to get a closer look at the shoot, and Grace checks in with the producer to make sure everything is going well. While the shoot is on, she chats with her partner and co-founder of Metallic inc, Alex Sossah about Homecoming, the ongoing pop-up, the panels and more as we all prepare to head back to the pop-up. We arrived at the pop-up at a few minutes past 3pm and the entire place had become so much more colourful and vibrant than it was earlier on in the day.
The place was filled with a stylish crowd from all over the world who were ready to reconnect with all the different facets of culture available. The pop-up had people shopping exclusive pieces from Drake's Nocta collection, Daily Paper, Pith Africa, WAF and more. While the pop up wound down for that day, we headed out  to the pane discussions,  where Grace shared a bit of knowledge about streetwear culture alongside other streetwear brand representatives such as Street Souk, Free The Youth, Daily Paper, Motherlan and more. The panel which kicked off at 6:00PM was very insightful and there was a lot of insight made available. A number of emerging streetwear brands were represented as well as already established brands, which gave the audience two different perspectives to take away from. 
Altogether, a day in the life of Grace Ladoja seemed like a success looks like. When a thing of your dreams becomes a tangible object that benefits others, it's an incredible thing and no wonder Grace is so proud of herself. 
View this post on Instagram
8:45AM – Interview with Arise News where she spoke about the impact Homecoming has had so far, Homecoming's relevance to the culture today, the musical culture in Africa now and Africans in the diaspora. 
9:23AM – Got back home to specifically spend some time with her son, Zaccai, get ready for the Homecoming panels, the pop up show. 
9:51AM – Heading over to Alara to check out the set up. 
10:06AM – Grace checks out the set up and takes pictures and movies with Zaccai as she shows him around. 
11:00AM – Grace addresses the staff, starting off by thanking them and preparing them for what the day's going to be like. 
12:30PM – She moves to the i-D editorial photo shoot. 
3:10PM – Grace goes back to Alara to check out how the pop up show is going 
4:40PM – Grace settles at Nok By Alara restaurant to eat and talk with friends and family. 
5:40PM – Grace heads out to the Panels where she's sharing a bit of knowledge about streetwear, alongside other streetwear brand representatives such as Motherlan, WAF, Street Souk, Free The Youth, Daily Paper and more, all discussing 'The Rise Of African Streetwear.'
6:00PM – The panels kick off and representatives from each brand are on stage, including Grace and her partner Alex Sossah, co-founder of Metallic Inc.
8:00PM – The very insightful panel rounded up. The members of the panels were asked questions by the audience, right after they had shed light on all they know so far concerning streetwear and the growth of African streetwear
Featured image credits/NATIVE
---